Moleskine Volant Notebook (Set of 2 ), Large, Plain, Slate Grey, Payne's Grey, Soft Cover (5 x 8.25) (Paperback)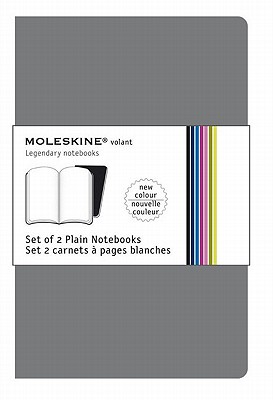 Description
---
These Large colorful Moleskine Volant Notebooks come packaged in sets of two, with a lighter and darker shade to suit your mood and are ideal for everyday notes and thoughts. Each set comes with acid free plain paper and includes the Moleskine history. Specifications:
- Layout: Plain Paper
- Dimensions: 5" x 8-1/4"
- Color: Slate Grey, Payne's Grey
- Pages: 96; last 16 pages are detachable
- Paper Weight: 70 gsm/47 lb.; FSC Certified Paper; Acid-Free (pH Neutral)
- Set of 2.