Missing (Spanish Edition) (Paperback)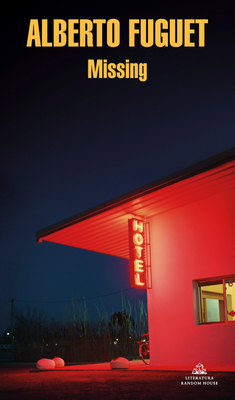 $21.95

Usually Ships in 3-6 Days
Description
---
Edición revisada de la elogiada novela en que Fuguet busca a su tío perdido en Estados Unidos.

Por años Alberto Fuguet escuchó relatos difusos o esquivos acerca del paradero de su tío Carlos, que un día desapareció sin más del ámbito familiar. Con el vago indicio de que quizás estaría perdido en Estados Unidos, el sobrino, convertido ya en un escritor reconocido, inició una investigación en la que mezcló hechos y elucubraciones, intuiciones y recuerdos. Missing, el libro que registra todo, no es tanto un thriller, pues el tío aparece pronto y su voz se toma la novela, sino una cautivante indagación autobiográfica y una exploración en la voluntad humana de desaparecer, en las derivas del fracaso. Un viaje por los caminos no pavimentados del sueño americano.

Esta edición incluye un epílogo que cuenta el detrás-de-escena de la novela y cierta farsa periodística que rodeó su aparición.

ENGLISH DESCRIPTION

A revised edition of the praised novel in which Alberto Fuguet searches for his lost uncle in the United States.

For years Alberto Fuguet listened to vague and elusive stories about the whereabouts of his uncle Carlos, who one day simply disappeared. With the unclear indication that he might be lost in the United States, his nephew, who at that time was already a well-known writer, began an investigation in which he mixed facts and theories, intuitions and memories. Missing, the book that gathers all his findings, is not so much a thriller, since the uncle appears very soon in the story and his voice overtakes the novel, but a captivating autobiographical inquiry and an examination into the human will to disappear, into the drifts of failure. A journey down the unpaved roads of the American dream.
 
This edition includes an epilogue that tells the behind-the-scenes of the novel and a certain journalistic farce that surrounded its first arrival.
About the Author
---
Alberto Fuguet estudió periodismo en la Universidad de Chile. En 1990 publicó Sobredosis, su primer libro de cuentos. Es autor de los libros Mala onda, Por favor, rebobinar, Tinta roja, Las películas de mi vida y Cortos. De los libros de no ficción Primera parte y Apuntes autistas, y de la novela gráfica Road Story, junto al dibujante Gonzalo Martínez. También fue coeditor de la antología de críticas de cine Una vida crítica, de Héctor Soto, y de la célebre, polémica y ahora canónica McOndo. Además, fue «director y montajista» de Mi cuerpo es una celda, la autobiografía de Andrés Caicedo. Ha dirigido varios clips, el largometraje Se arrienda y el corto 2 Horas. Fue seleccionado por Time/CNN como uno de los líderes del siglo XXI y Newsweek lo consideró icono de la nueva literatura latinoamericana. Ha sido traducido al inglés, finlandés, polaco, italiano, alemán, danés, coreano y portugués
Praise For…
---
La crítica ha dicho...

«Gracias por Missing: es una gran novela verdadera. Fuguet está parado todo el tiempo tambaleándose sobre los hombros del mejor Bolaño. Es un gusto verlo bailar así, con su verdad en brazos.» —Fogwill

«En todos los libros de Fuguet que he leído hay siempre, junto con la historia que cuentan, una voluntad de innovar, tanto en la lengua como en la estructura narrativa. En Missing es donde mejor lo ha conseguido.» —Mario Vargas Llosa

«El libro es un prodigio de talento y de sensibilidad. Lo leí en una noche, como quien espía una conversación apasionante, y a la mañana siguiente yo era otro: era alguien que acaba de terminar un gran libro.» —Rodrigo Fresán

« Missing es una aventura sin retorno, que deja al lector remecido, golpeado, pero de alguna forma mejor. Quizá menos solo. Si ese es uno de los máximos logros a los que puede aspirar un libro, Fuguet tiene el don. Lo ha conseguido.» —Marcelo Soto, Capital

«Fuguet se la jugó en un libro que también es recorrido por la duda, por la inseguridad, por un poner todo sobre la mesa y esperar ver cómo caen los dados. Alberto Fuguet sale de este túnel del tiempo galvanizado por la confección de un libro macizo, vital, inquieto, y que sin duda se alza como una de las cumbres de su obra.» —El Periodista
Sit 'n Knit