Ultimate Origami for Beginners Kit: The Perfect Kit for Beginners-Everything You Need Is in This Box!: Kit Includes Origami Book, 19 Projects, 62 Orig (Hardcover)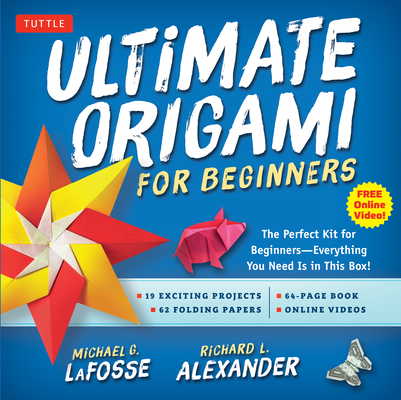 $14.95
Usually Ships in 3-6 Days
Description
---
Make fun and simple paper craft projects with this easy origami kit.
Ultimate Origami for Beginners Kit
is the perfect paper craft kit for origami beginners and children. World-renowned origami designers and artists Michael G. LaFosse and Richard L. Alexander have selected paper folding projects from several popular origami categories that include: traditional origami, modern origami, origami flowers, paper airplanes, cute, cuddly animals and much more Use
Ultimate Origami for Beginners
to craft eye-catching origami for your friends, to beautify your home--or as an excellent gift for paper craft lovers. All of the folds are simple enough to be origami-for-kids projects and are a great way to learn origami. None of the projects require paint or glue so just unpack the origami paper and start folding right away
This origami kit contains:
A full-colored 62-page origami booklet
Clear step-by-step instructions
Colorful diagrams and photographs
Folding techniques and tips
A DVD with easy-to-follow video tutorials
Videos are also streamable or downloadable online
62 sheets of durable origami folding papers
Several colors and three different sizes
It seems that everywhere we look, people are folding paper origami. While previous generations may have made greeting cards with cranes folded from pretty scraps of paper, the art of origami has advanced to such a degree that we are now seeing it around the world. They grace retail store windows, as clever dollar bill folds displayed in restaurants and even on TV This delightful array of projects and papers provided in
Ultimate Origami for Beginners Kit
are sure to get your feet wet and your fingers folding
Origami Projects include:
Crane's Egg
"Kanji" the Dog
Petallunia Moon Flowers
Scallop
Seahorse
Dollar Yacht
Ninja Jet
And much more...
About the Author
---
Origami master Michael G. LaFosse is a co-founder of the Origamido Studio, a learning center and design studio dedicated to the art of origami, and the only place in the world specializing in hand papermaking for the origami artist. LaFosse was prominently featured in the recent Peabody Award-winning documentary, Between the Folds. Richard L. Alexander co-founded the Origamido Studio, where he is the chief papermaker. Together, Alexander and LaFosse have created dozens of origami exhibitions, and more than seventy books, kits, and videos about paper and paper arts.