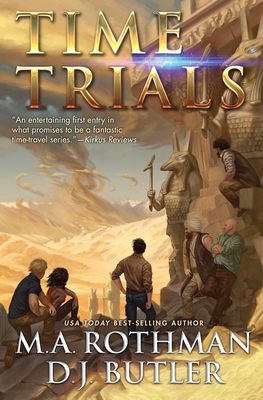 $25.00

Usually Ships in 3-6 Days
Description
---
THE EVENTS OF EARTH'S PAST MAY HOLD THE KEY TO EARTH'S FUTURE SALVATION

Marty Cohen was a gifted linguist and student of ancient military strategy who stepped away from academic Egyptology and opened a woodworking shop. Away from the bitter politics and petty rivalries, he's happy to take care of his people, play the occasional war game, and try to make a good life.

Then mysterious visions begin to rob him of sleep. Soon after they start, he gets summoned back to Egypt: an off-the-grid dig funded by an eccentric financier has discovered texts that may be the earliest Egypt has produced, and they'll pay Marty silly amounts of cash just to fly out and take one little look.

Marty turned his back on the academia game, but he's a small business owner who has to make payroll during a recession, and he can't say no to the money.

But the texts open doors to more visions and to an astonishing journey: the ragtag team of archaeologists finds itself in protohistoric North Africa, a drying land dominated by monsters, where humanity is badly in need of champions.

And behind the war against the monster overlords lies a greater struggle: Marty and his team have been chosen to be champions of all Earth and to run a gauntlet on humanity's behalf.

Failure will mean extinction.

Praise for Time Trials:
"This highly enjoyable novel by Rothman and Butler is full of nonstop action, bits of science, mystery, humor, and enough Ancient Egypt trivia to satisfy any history enthusiast. The quest narrative and the Dungeons & Dragons-style team structure recall familiar fantasy tropes, but the authors manage to develop the characters well, giving each of them their own distinct arcs and it results in a tale that's well worth reading. The overarching mystery keeps the pages turning in an adventure tale that refreshingly shows respect for ancient civilizations and their accomplishments. An entertaining first entry in what promises to be a fantastic time-travel series." —Kirkus

Praise for D.J. Butler:

"I have come to appreciate the work of D.J. Butler; He is a recent writer in a tradition of science fiction and fantasy I associate with Harry Turtledove, S. M. Stirling, Eric Flint, and Jerry Pournelle, with a sort of grittiness and focus on societal dynamics that I very much enjoy." —Warped Factor
About the Author
---
USA TODAY best-selling author M.A. Rothman is one of the most unlikely novelists you'll ever meet. He's an engineer first and foremost, with a background in the sciences, and somehow or another, this writing habit of his has turned into a lucrative career as an independent author.

He primarily writes stories that focus on two things: technology and international intrigue. This writing tends to span the genres of science fiction, techno-thriller, and mainstream thrillers.

When not writing, he enjoys cooking, learning about new technology, travel, and spending time with his family.

D.J. ("Dave") Butler grew up in swamps, deserts, and mountains. After messing around for years with the practice of law, he finally got serious and turned to his lifelong passion of storytelling. He now writes adventure stories for readers of all ages, plays guitar, and spends as much time as he can with his family. He is the author of City of the Saints, Rock Band Fights Evil, Space Eldritch, and Crecheling from Wordfire Press, and Witchy Eye, Witchy Winter, Witchy Kingdom, and Serpent Daughter, and The Cunning Man and The Jupiter Knife with coauthor Aaron Michael Ritchey, In the Palace of Shadow and Joy, and Abbott in Darkness, from Baen.
Praise For…
---
Praise for the authors' work:

"... you can't stop yourself from taking another bite...and another...and another....I didn't want to stop reading.... Kudos!"
—  R.A. Salvatore, New York Times Bestselling Author

"Rothman's stories are a roller coaster of action, science, and thriller all rolled into one. You won't be disappointed."
— Kevin J. Anderson, New York Times bestselling author

"Written by one who really knows the science..."
— Gregory Benford, New York Times bestselling author

"For nail-biting science fiction thrillers, look no further than one of Rothman's stories. Sit back and enjoy the ride."
— Larry Correia, New York Times bestselling author

"M.A. Rothman is a writer of stories that carry you away into imaginative worlds where surprises abound, and the only thing that you can expect, is the unexpected."
— David Farland, New York Times bestselling author

"With Butler, this is your chance to discover one of the finest new stars writing today!"
— David Farland, New York Times bestselling author

"This is enchanting! I'd love to see more."
— Mercedes Lackey New York Times bestselling author

"The characters come to life in an interesting blend of both Science and Fantasy, and should bring readers of both into a happy place."
— Ernest G. Gygax, Jr.