The Family Guide to Aging Parents: Answers to Your Legal, Financial, and Healthcare Questions (Paperback)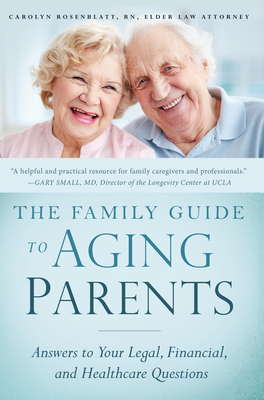 Description
---
Are you struggling with what to do with difficult aging parents? Are they stubborn and refusing help? You are not alone. Millions of adult children face issues when parents' health starts to decline and they can't do things safely anymore. There is endless information on the internet, much of it confusing and even contradictory with common sense. Skip the confusion! Now you can get clear, professional, action-oriented answers to your most vexing legal, health care, and financial questions about your aging loved ones. Author Carolyn Rosenblatt is an RN and attorney with over 45 years of combined experience. She is a consultant for families at AgingParents.com, and her work there informs her writing. Find real case illustrations and real-life solutions to problems like yours. You'll find a chapter on how to have the often uncomfortable money conversation with your aging parents, how to safely hire a home care worker, what you need to know about assisted living, how to get your parent to give up driving, how to prevent your loved ones from being abused and much more. The Family Guide to Aging Parents gives you the legal and healthcare expertise you need to guide you through the many difficult decisions you have to make as your parents age.
About the Author
---
Carolyn L. Rosenblatt, RN, Attorney, Mediator personally cared for thousands of older clients in her nursing career. She represented hundreds of individuals as a lawyer with a combined forty-five years in her professions. Her compassionate perspective on elders informs her writing throughout this book. She is a strong promoter of the safety, protection, and quality of life of seniors. She wants the reader to get immediate benefit from the lessons learned over the years in working with many families at AgingParents.com, which she founded with her psychologist husband, Dr. Mikol Davis. They also founded AgingInvestor.com, for education about elder abuse prevention.
Praise For…
---
"The Family Guide to Aging Parents
is
a helpful and practical resource for family caregivers and professionals.
Written by an experienced geriatric nurse and elder-law attorney, it offers useful health care and legal information and I recommend it for students, professionals, and the many families grappling with these challenging issues."
—
Gary Small, MD, Author, Professor of Psychiatry and Aging, Director of the Longevity Center at UCLA
"My suggestion to patients, families and loved ones is this: when you find a reliable source of information, buy it, use it, share it and keep it handy. This book is a timely and powerful information source to fill a need as to where to go and get help. Knowledge is power. This book is a source of power for Americans as we age ourselves and assist our loved ones."
—Elaine G. Swenson, MPH, BSN,RN
 "
Ms. Rosenblatt's Family Guide to Aging Parents brings great insight and deep personal caring to matters concerning the elderly.
She has extensive background in difficult elder law matters including dementia, elder abuse, and fighting amongst family members, and I have worked with her on several of these. She is able to apply her experience and compassion from her work as a registered nurse her practical book."—
Eliot M. Lippman, Esq., elder law attorney
 "Carolyn Rosenblatt has written
a crucial guidebook for the millions of Americans who are dealing with the unfamiliar challenge of helping aging parents live safely and with dignity.
Through a combination of practical tips and instructive, true-life stories gathered during her years as a nurse, lawyer, and now family mediator, Rosenblatt provides smart advice on everything from getting Dad to give up the car keys, to talking to parents about their finances, to protecting them from elder abuse."
—
Janet Novack, Personal Finance Editor & Washington Bureau Chief, Forbes Media
"Rosenblatt offers us one of the more balanced resources to come along in a long time. Although, I give away almost all the books we receive for review consideration, her book will have a home on my resource shelf."
—Brenda Avadian, The Caregiver's Voice