Hydroponics: The Advanced Guide to Get the Skills to Maintain an Aquaponics Growing System. Improve Your Gardening Skills by Growin (Hardcover)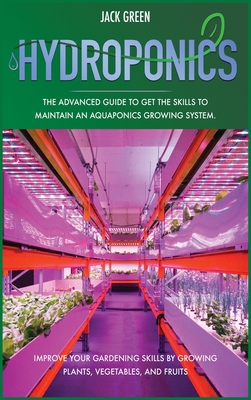 Special Order - Inquire at Store
Other Books in Series
This is book number 2 in the Hydroponics series.
Description
---
ARE YOU LOOKING FOR A WAY TO GROW PLANTS SIMPLY, AVOIDING BREAKING YOUR BACK BY TILLING AND REMOVING THE WEEDS?
Perhaps you have already heard of hydroponic gardens and you are interested in finding out more...
if YES this is the book you need right NOW ...
For years and years you have tried to cultivate the vegetable garden in the traditional way obtaining disastrous results because insects, plant diseases and birds almost always destroy your vegetable garden, you have also tried with treatments and scarecrows but then you realized that these didn't work or they were too expensive.
If you have already thought about hydroponics, you have thought WELL, because hydroponic horticulture is the EASIEST way to grow plants, including herbs and fruits, the garden being closed in a greenhouse and without touching the earth is SAFE from any attack of the nature without using toxic, carcinogenic and expensive chemical treatments.
Hydroponics is the present and will be the future of horticulture, because it uses innovative and economical technologies, it's easy to learn, it's simple to manage and it's the best way to grow plants in any condition and with little space for this it will always be more used.
? - HOW THIS BOOK CAN HELP YOU
✅ Discover How Hydroponics Works and Why So Many People Use It
✅ The Basics to Develop an Effective Hydroponic Growing System
✅ The 5 Advantages of the Hydroponic horticulture
✅ The Method to use hydroponics to have a better yield
✅ Find Out the 3 secrets of the experts hydroponics producers
Even if you have never grown a garden successfully or have never tried hydroponic gardening, thanks to this book you will have access to tips for applying all the latest hydroponic and aquaponic strategies to become a specialist in hydroponic cultivation of vegetables, herbs and organic fruit.
So hurry Up
Click to buy "Hydroponics Bible" by "Jack Green"