Greenhouse gardening for beginners: Beginner's guide with a step by step process for building your greenhouse system and grow vegetables fruits, plant (Hardcover)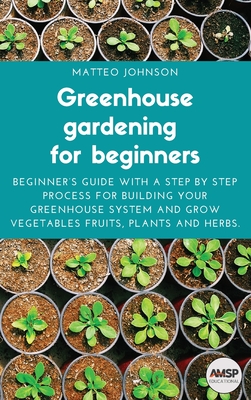 $31.95
Usually Ships in 3-6 Days
Description
---
⭐ 55% OFF for Bookstore NOW at $ 31,95 instead of 40,95 ⭐
Your customers will never stop to read this book
------------------------------------------------------------------------------------------AMSP LTD
Are you looking for a complete guide for building your greenhouse gardening? Then keep reading...
Having your own garden at your backyard is one of the traditional pastimes around the world. Not only does gardening carry its own unique challenges, but it can also be extremely fulfilling if you can get it right. Of course, there is the unique fulfillment of being able to grow plants in your yard. Also, the tangible benefits of growing these plants are there (ex.: food, ornamentals, extra fresh air, etc.). While there are many factors that can dictate the feasibility of backyard gardening, the biggest one of them all is weather.
Bad weather can dramatically slow down the growth of plants, reducing their overall productivity in the process. In some cases, extreme weather conditions (heavy rains, drought, high heat, frost) can cause the outright death of plants. Not only does bad weather put a monkey wrench on one's planting activities, but it can potentially cost a planter a ton of money and time due to damage.
One of the best solutions developed to protect plants from the ravages of extreme weather is the greenhouse. A building specially designed to facilitate the growing of plants indoors, the sizes of these structures can range from small sheds to large industry-spec buildings. These buildings are made not just to give shelter to plants from extreme weather, but it can also serve as a device to create optimal conditions needed to grow plants.
One of the most enduring characteristics of a greenhouse is its ability to maintain a particular temperature in spite of outside weather conditions. Thanks to its unique design, the interior of a greenhouse can remain warm even if the weather outside is cold (especially during the wintertime). This is made possible because the unique design of the greenhouse (mainly featuring glass, plastic, or other translucent material) absorbs available heat from the sun, heating up air from the inside. At the same time, the greenhouse is made in such a way that warmed air does not get out. While they use the same name, the process that heats up greenhouses is not the same as the greenhouse effect.
While the use of greenhouses is increasing over the last few years (in fact, some of the greenhouses today can be considered as technological marvels), the concept of it has actually existed even during the early days of civilization. The first trace of the greenhouse is seen during the time of the Roman Empire. The gardeners of then-emperor Tiberus developed a planting method that's similar to the greenhouse system to ensure the emperor can get his daily fix of his favorite cucumbers. Greenhouses as we know it today emerged in the 13th century in Italy. They were then created to house exotic plants. The concept of an active greenhouse (a greenhouse with a mechanism that allows for the manual adjustment of temperature) was first developed in Korea during the 15th century.
This book cover:
- How A Greenhouse Can Benefit You
- Planning For A Greenhouse
- Portable Greenhouses
- Heating Your Greenhouse
- Greenhouse Problems
And much MORE