Safety and Security for the Over-55s (Hardcover)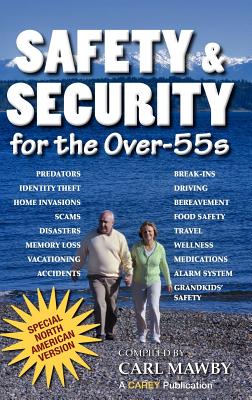 $61.60

Usually Ships in 3-6 Days
(This item cannot be returned.)
Description
---
Safety and Security for the Over-55s
Compiled by Carl Mawby
Those of us who are about or over 55 should take safety and security seriously because we have something to lose -- loved ones, life, health, money and possessions -- and aging brings increasing vulnerability to crime, accidents at home and elsewhere, bad health and disasters (natural or man-made).
Upon retirement, CARL MAWBY, formerly a soldier, public servant and business executive, was unable to find a publication comprehensively addressing threats to his new life as a senior and retiree. So he researched private company and government publications, libraries and data-banks to find and assemble the best advice available. Friends checking his notes requested copies, and over the next ten years this manual was born.
Easy to read, "Safety and Security for the Over-55s" describes and assesses dangers facing all those over 55, showing how they are targeted and outlining safety measures. "Part 1, The Printed Guidebook" identifies and analyses the range of threats ranging from muggings to home invasion, scams to identity theft, and accidents to disasters, also discussing "Looking After the Grandkids", "That #@ Driving Question", and "Coping With Aging". Having expert advice in a well-organized, indexed manual, with many practical examples, is extremely helpful.
Recognizing that our memory can become less efficient as we age, Mawby has created numerous memory aid lists. A password is provided in this printed manual to the website for "Part 2, The Memory Aid" where lists can be printed off for repeated use. Included are lists to help readers ensure safety at home and out, for coping with loss or illness of a partner, preventing harm or theft of money or possessions when traveling, surviving emergencies, and more.
Carl Mawby's unique and comprehensive reference manual provides a sound basis to plan and as far as possible ensure safe and happy "senior" years.
A CAREY Publication -- www.cpipub.com
Available in trade paperback as ISBN 978-1-897435-40-3
and in deluxe laminated case binding as ISBN 978-1-897435-41-0