Spanish Stories A Dual-Language: Grow your vocabulary and improve your listening skills (Paperback)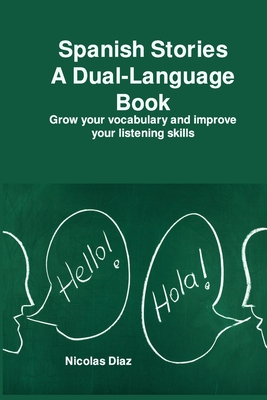 $29.95
Email or call for price
Description
---
Your Customer Will Never Stop Using This Excellent Guide.
Much Spanish Short Stories to Boost Your Reading Comprehension
Reading is one of the best activities you can do to learn new vocabulary and grammar structures. Coupled with audio material to boost your reading comprehension, it becomes even more fun and effective in improving your Spanish.
Learn Spanish Vocabulary in Context
The short stories will not just teach you new Spanish words but also help you better understand the contexts in which the words can be used. This will help you develop a more natural flow of words when speaking Spanish.
No Dictionary Needed
With built-in glossaries throughout the text, you will learn hundreds of Spanish words, phrases, and expressions without needing a dictionary. This will let you enjoy an unhampered reading experience and boost your reading comprehension.
Functional Story Themes for Intermediate Level
The stories you will find inside this book are interesting to read and revolve around practical situations you might encounter in everyday life. You can immediately put the words you learn to use The story themes are music, office, trips, cooking, luxury/money, beauty, weather, family, dreams, and nightmares.
Ideal for Intermediate Level Spanish-Learners
Some beginners may be able to enjoy the stories, but a basic understanding of Spanish is recommended to get maximum enjoyment and effectiveness out of the stories.
- Technical Details:20 fun and easy-to-read stories (For Intermediate Level) written in Spanish by native Spanish speakers, without focusing on a specific dialect or country, written with general Spanish so you can acquire as many words as possible. The stories are written in a way any adult or child can understand.
- Each story has a corresponding summary, written in both languages (Spanish/English),
- And a series of simple questions about each story (With answer
Buy it NOW and let your Customers get addicted to this fantastic Book