Acquire Spanish with Short Stories: Captivating Short Stories to Learn Spanish & Grow Your Vocabulary the Fun Way! (Hardcover)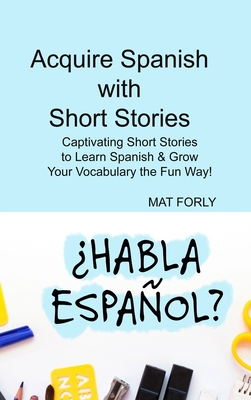 $39.95
Email or call for price
Description
---
Your Customer Will Never Stop Using This Excellent Guide.
Do you want to speed up your Spanish learning process with advanced techniques?
The reason you are struggling in learning is probably the method
Stop trying to learn a language just by memorizing hundreds of words. There are efficient ways to boost your memory performance
The sequence of the lessons is organized in a manner that makes it easy for beginners and perfect for night repetition and immersion. The goal that we have in mind is to keep the learning process like the one you used to learn the native language.
In every lesson, you will find:
- Spanish vocabulary
- Spanish common phrases
- Spanish grammar
- Spanish short stories
- Spanish Pronunciation
AND MUCH MORE...
Get ready to reach the conversational level of Spanish that you always wanted and speak with complete confidence
Buy it NOW and let your Customers get addicted to this fantastic Book