Hydroponics and Greenhouse Gardening: 2 Books in 1: Everything You Need to Know to Start Your Hydroponic System and Build Your Own Greenhouse to Grow (Hardcover)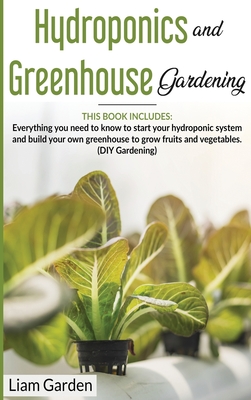 $36.95
Email or call for price
Description
---
Did you know that advanced gardening methods like hydroponics and greenhouse gardening could help your plants grow twenty-five percent quicker while presenting a thirty-percent boost in the harvest? For those people who like to taste the fun of their homegrown food and see excellent results, this book bundle is perfect for you
Your Customers Will Never Stop to Use this Awesome Guide
In case you didn't know, with hydroponics, you grow out-of-season crops all year round. Your plants will grow quicker and generate a bigger yield compared to plants growing in soil. On top of that, you don't need a garden area or yard Amazing, isn't it?
Meanwhile, with greenhouse gardening, you get the chance to jumpstart a new growth period. What's more, you can grow plants that do not typically flourish in your region. Ultimately, you can extend your growing season
No matter what your goal might be, this book bundle got you covered. Here's what you'll learn from this book bundle:
Hydroponics
Hydroponic Gardening In-Depth Definition
The History Of Hydroponics
Main Advantages And Disadvantages Of Hydroponic System
Different Types Of Hydroponic Gardens
How To Build Your Own System
Tools And Equipment Required To Grow Plants In Water
Plants To Grow In Your Hydroponic System
DIY Hydroculture With Germinated Plants
Maintaining A Nutrient Film Technique System
Starting A Hydroponic Business
Mistakes To Prevent
Greenhouse Gardening
Planning Your Greenhouse
Equipment And Parameters Required: All You Need To Know
Lighting System Equipment
Environmental Control
Operations In The Greenhouse
Best Greenhouse Vegetables
Hydroponics In A Greenhouse
Myth And Mistakes To Avoid
Using A Greenhouse Plan Will Save You Time And Money
Business Opportunity With Your Greenhouse
This book bundle will surely help you save a huge amount of money and time with simple-to-follow tables and illustrations. What are you waiting for? Take the first step to creating your hydroponic and greenhouse garden.
Buy it NOW and let your customers get addicted to this amazing book