Native American Herbalism The Smart Handbook: Eradicate All Diseases Naturally From Your Mind and Body. Discover 50+ Sacred Medical Herbs of Indigenou (Hardcover)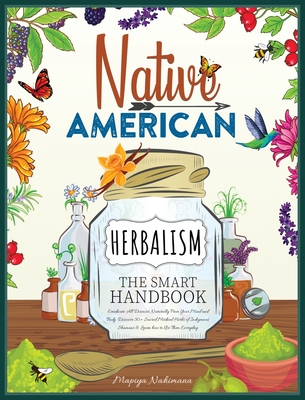 $24.14
Email or call for price.
Description
---
Are your looking for a natural way to eradicate all diseases from your mind and body?
Do you want to discover 100+ tried, tested and proven ways to use herbal remedies in daily life?
Do you want to learn what the most beneficial herbs around us are and how to daily use them to treat modern-day diseases such as cancer, diabetes and common flu?
Then keep reading...
More than 15000 plant species constitute the North American flora and almost 3000 plants continue to be used today for medicinal purposes by various Native American Shamans. The purpose of this A to Z guide is to bring back to you their medicinal wisdom and profound knowledge of herbal remedies.
Let me explain deeply...
Your suffering may be soothed by an antacid or aspirin, but the origin of the discomfort may not be relieved. Headaches, fatigue, indigestion, allergies, eczema, anxiety, elevated blood pressure, among other symptoms, are indications of a greater problem in the body, and it is a crucial move in maintaining optimal health to learn to interpret such indications. Including herbal medicines and other natural therapies, this smart guide teaches you how to interpret the signs of your body and encourage your own health.
With Native American Herbalism - The Smart Handbook you will discover:
- The traditional and modern uses of 50+ North American plants
- 100+ tried, tested and proven ways to use herbal remedies in daily life
- 7 Secret Herbal Remedies of the Sacred Native Shamans
- How to heal common ailments like Acne, Allergies, Back Pain, Sinusitis...
- How to grow and care for your very own medicinal herbs and become a skillet herbalist
- And much more...
With this handy encyclopedia on your shelf, a rich heritage of herbal craftsmanship and herbal tradition is at your fingertips.Though this knowledge you will able to become a considerate, respectful, and skilled herbalist.
Take the first step towards a healthier, more holistic way of life. Free yourself from the shackles of modern medicine and its symptom-driven approach. Listen to the nature around you as our ancestors so wisely did and learn to heal yourself in a natural way.
Are you ready to go back to the origins?
Click on the Buy Now button to start your journey today