My Name's Yours, What's Alaska?: A Memoir (Hardcover)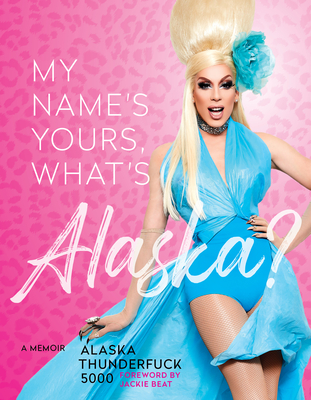 Description
---
Alaska Thunderfuck spills the tea on her meteoric rise from timid Pennsylvania kid to drag superstar in this intimate photographic memoir that will appeal to diehard Alaska admirers and broader drag fans alike.

Before RuPaul's Drag Race became a worldwide phenomenon, Drag was mostly an underground art form, performed by the daring and the quick-witted, with maximum energy and a minimal budget. This is the story of one of the galaxy's greatest queens, Alaska Thunderfuck 5000, as she transforms from wearing dresses made of trash bags because she has to, to wearing dresses made of trash bags because she wants to. Finally coming clean on her home planet (earth), this dishy, visual memoir tells the stories that shaped Alaska into an All Star: from prom king to the House of Haunt, to the very public breakup that almost destroyed her. Intimate and alluring with exclusive photography throughout, and illustrations by the author, My Name's Yours, What's Alaska? is the ultimate backstage pass.

UNIQUE & PERSONAL: Chronicling Alaska's journey from small-town kid to drag superstar, this memoir stands out for its emotional resonance, distinct humor, and unapologetic realness. Filled with compelling personal stories told in Alaska's unique voice, it gives fans an exclusive look at Justin Honard the person, not just Alaska Thunderfuck the drag queen.

LGBTQIA+ REPRESENTATION: LGBTQIA+ consumers will see their experiences and passions reflected in Alaska's authenticity and openness about her childhood struggles, and will be excited by a drag memoir that celebrates the whole story of queerness, not just the sassy, shady highlights.

GREAT GIFT FOR FANS OF RUPAUL'S DRAG RACE: Behind the scenes stories of Alaska's journey to RuPaul's Drag Race fame, alongside full-color photography of Alaska's iconic trash-glam looks throughout her career, will deliver the exclusive content fans crave.

Perfect for:
• Diehard drag fans
• Fans of Alaska Thunderfuck, RuPaul, Michelle Visage, Trixie Mattel, Bianca del Rio, Sharon Needles, Magnus Hastings, Cherri Baum, Veruca, and more
• RuPaul's Drag Race enthusiasts who want to deep dive into a famous queen's rise to stardom
About the Author
---
ALASKA THUNDERFUCK 5000, primarily known mononymously as Alaska, is a drag performer and recording artist best known for competing in the fifth season of RuPaul's Drag Race and as the winner of the second season of RuPaul's Drag Race All Stars. She has traveled the world touring her chart-topping hits from her variety of albums and has appeared on television and in film. She currently co-hosts the hit podcast "Race Chaser with Alaska & Willam," and continues to inspire the people of Earth with her unmistakable brand of irreverent humor and extra-terrestrial glamour.
Praise For…
---
"In this photographic memoir, we get a hilarious and brutally honest look at Alaska's life pre- and post-
Drag Race
fame. Alaska doesn't hold back, even from some of the most unflattering parts of her life. From her small town childhood to experimenting with form in drag to her messy public breakup, this memoir shares the story behind the drag queen with Alaska's signature humor. The beautiful images included will keep you coming back for more."
-BookRiot