Photo Hacks: Simple Solutions for Better Photos (Paperback)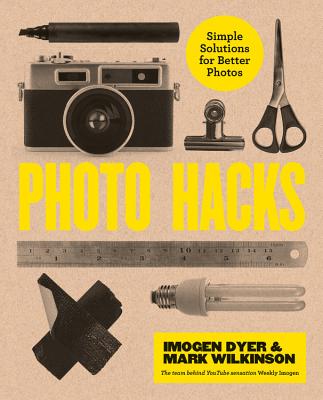 $19.99
Email or call for price
Description
---
Taking the best photos needn't be difficult. Or expensive. Discover how to create professional results on a budget.
Do you ever find yourself walking along aisles full of camera equipment, fingers itching to claim the latest gadget but with your eyes always avoiding the price? It's no secret that photography equipment is expensive. Your dreams may seem bigger than your pockets, but what if you could get the amazing results of professional equipment without parting with your cash?
That's what this book is all about.
Learn how to cut, stick and glue your way to photography perfection with this collection of ingenious tricks that will transform your photos.
About the Author
---
Imogen Dyer is the unstoppable on-screen talent behind Weekly Imogen, the phenomenally successfully photography tips & tutorials YouTube channel which averages 50,000 views a day. Imogen and Mark began their photographic partnership in 2009 after a chance meeting at a village fete. Mark posted the images they shot together online and such was their success that they launched a YouTube channel to share their tips and techniques with Imogen presenting. Thus WeeklyImogen was born. In just four years it has become one of the biggest channels on YouTube, with over 150,000 subscribers and well over a million views a month with no sign of the growth slowing down.