The Devil and the Dark Water (Hardcover)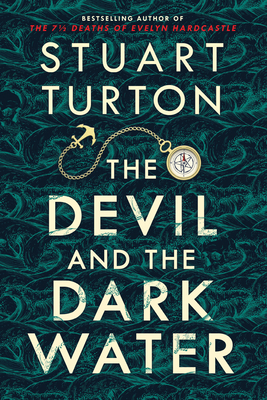 $26.99

Backordered (Could take 2-4 weeks, or more)
Description
---
"Compulsively readable."—New York Times Book Review
From Stuart Turton, author of The 7 1/2 Deaths of Evelyn Hardcastle, comes an extraordinary new locked-room murder mystery.
A murder on the high seas. A remarkable detective duo. A demon who may or may not exist.
It's 1634, and Samuel Pipps, the world's greatest detective, is being transported to Amsterdam to be executed for a crime he may, or may not, have committed. Traveling with him is his loyal bodyguard, Arent Hayes, who is determined to prove his friend innocent. Among the other guests is Sara Wessel, a noblewoman with a secret.
But no sooner is their ship out to sea than devilry begins to blight the voyage. A strange symbol appears on the sail. A dead leper stalks the decks. Livestock dies in the night.
And then the passengers hear a terrible voice, whispering to them in the darkness, promising three unholy miracles, followed by a slaughter. First an impossible pursuit. Second an impossible theft. And third an impossible murder.
Could a demon be responsible for their misfortunes?
With Pipps imprisoned, only Arent and Sara can solve a mystery that stretches back into their past and now threatens to sink the ship, killing everybody on board.
Shirley Jackson meets Sherlock Holmes in this chilling thriller of supernatural horror, occult suspicion, and paranormal mystery on the high seas.
About the Author
---
STUART TURTON is a freelance journalist who lives in West London with his wife. Stuart is not to be trusted—in the nicest possible way. The 7½ Deaths of Evelyn Hardcastle is his first novel.
Praise For…
---
Named a Best Book of 2020 by The Guardian, Daily Mail, Financial Times, The Independent, Publishers Weekly, and more.
""Compulsively readable...Perfect for readers who like a little occult with their mystery."" —
The New York Times Book Review
"If you read one book this year, make sure it's this one." —
Daily Mail
"The locked room murder meets a Michael Bay movie, by way of
Treasure Island
; you can't know what's going on, if only because the author won't let you know until he's delivered the final surprise – and another one after that. The effect is irresistible." —
The Guardian
"And unlike most whodunits I wouldn't recommend it for pre-lights-out reading – not just because of the spooky bits, but because such a lovingly complex construct needs readers who are fully awake." —
The Sunday Telegraph
"Turton has a fantastic time laying out the details of his intricate plot, leaving the reader wondering if it is something human or supernatural causing the devilry on the Saardam." —
The Observer New Review
"A devilish sea saga that never runs out of cutthroat conspiracies." —
Kirkus Reviews, STARRED Review
[An] outstanding whodunit... Fans of impossible crime fiction won't want to miss this one.
"
The
Devil and the Dark Water
artfully combines intriguing characters, fascinating historical details and a seafaring labyrinth of twists and turns—not to mention a demon named Old Tom...History and mystery lovers alike will delight in the heart-racing escapades of
The Devil and the Dark Water
." —
BookPage, STARRED Review
"[A] rousing, action-filled mystery." —
Booklist
"An enjoyable throwback to the exaggeratedly intellectual plotting of Golden Age crime fiction." —
Library Journal
"Nothing short of thrilling and spellbinding." —
The Strand Magazine
"The
Devil and the Dark Water
is mind-bending, genre-bending, intricate, vivid, intelligent, and with one of the most gloriously grizzly cast of characters ever. An absolute razztwizzler of a novel." —
Ali Land, author of Good Me, Bad Me
"An absolute treat from the most original voice in crime fiction." —
Ragnar Jónasson, international bestselling author of Snowblind and The Island
"Stunningly good. A page-turning mystery on an epic scale, intricately plotted and expertly landed." —
Simon Lelic, author of The Search Party
"A superb historical mystery: inventive, twisty, addictive and utterly beguiling. I fell for this book (and its characters) in a big way. Beautifully crafted escapism for fans of
Sherlock
and
Master & Commander.
A triumph." —
Will Dean, author of Dark Pines
"A glorious mash-up of William Golding and Arthur Conan Doyle." —
Val McDermid, #1 bestselling author
"The desperate life on board an Amsterdam-bound Dutch Indiamen has never been so vividly painted. Throw in a demon (who may or may not exist), a cast of beautifully realized, compelling characters, along with a series of locked room mysteries, and the result is one of the most extraordinary books being published this year." —
M.W. Craven, author of The Puppet Show, winner of the 2019 CWA Gold Dagger Award 2019
Sit 'n Knit