The Biophilia Effect: A Scientific and Spiritual Exploration of the Healing Bond Between Humans and Nature (Paperback)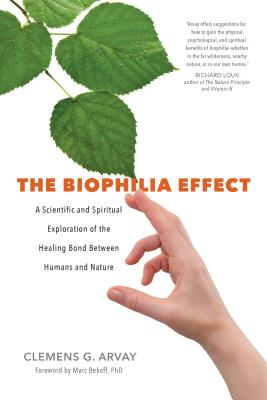 Description
---
Did you know that spending time in a forest activates the vagus nerve, which is responsible for inducing calm and regeneration? Or that spending just one single day in a wooded area increases the number of natural killer cells in the blood by almost 40 percent on average?

We've all had an intuitive sense of the healing power of nature. Clemens G. Arvay's new book brings us the science to verify this power, sharing fascinating research along with teachings and tools for accessing the therapeutic properties of the forest and natural world. Already a bestseller in Germany, The Biophilia Effect is a book that transforms our understanding of our interconnection with nature—and shows us how to engage the natural world wherever we live for greater health, inspiration, rejuvenation, and spiritual sustenance.
About the Author
---
Clemens G. Arvay is an Austrian biologist who studied landscape ecology at Graz University and applied plant sciences at the University of Natural Resources and Life Sciences in Vienna. Arvay examines the relationship between humans and nature, focusing on the health-promoting effects of contact with plants, animals, and landscapes. The author also addresses a second range of topics that includes ecologically produced food along with the economics of large food conglomerates. Clemens G. Arvay has written numerous books including The Biophilia Effect. More at clemensarvay.com.
Praise For…
---
"Rarely have I been as amazed, learned so much, and thoroughly enjoyed reading as with this wonderful book." —Ruediger Dahlke, physician and author of Peace Food

"Clemens G. Arvay reconnects us modern humans—who have been damaged by our civilization—with the power of nature, conveying scientific knowledge in a refreshing tone." —Dr. Wolf-Dieter Storl, ethnologist and author

"I am extremely impressed by the clear depiction of the great connections in nature. This book makes it possible for everyone to experience science." —Dr. Thomas Haase, President of the University College for Agrarian and Environmental Pedagogy, Vienna, Austria

""In The Biophilia Effect, Clemens Arvay extends the growing body of literature supporting E.O. Wilson's biophilia hypothesis. Arvay goes an additional step, offering a multitude of suggestions for how to gain the physical, psychological, and spiritual benefits of biophilia—whether in the far wilderness, nearby nature, or our own homes." —Richard Louv, author of The Nature Principle, Vitamin N, and Last Child in the Woods

"I recommend this book. We know that spending time in nature is good for both mental and physical health. Here is a practical guide to help you do that." —Andrew Weil, MD, author of Mind Over Meds

"The Biophilia Effect by Clemens Arvay is stimulating and original." —Michael Harner, author of The Way of the Shaman and Cave and Cosmos: Shamanic Encounters with Another Reality

"In this groundbreaking book, Clemens Arvay illustrates how we can easily rewild our hearts and our psyches by reconnecting with all of nature. And, as our bodies, psyches, and souls heal, the world will become a better place for all because our deep evolutionary roots of wildness allow us to accept who we truly are and lead us into forming and maintaining caring and loving relationships with all of our kin. Healing for one will lead to healing for all." —Marc Bekoff, PhD, professor emeritus, University of Colorado, author of Rewilding Our Hearts: Building Pathways of Compassion and Coexistence