Family Heritage Journal: History, Stories, and Cherished Keepsakes (Hardcover)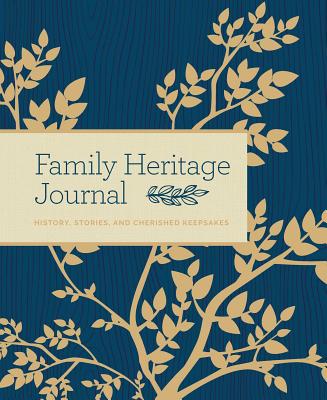 $22.99
Email or call for price
Description
---
A modern keepsake album for documenting the cherished or unique traditions, stories and history of the family in every form, and for every member of that family.
Every type of family: whether you have four grandparents or eight step-grandparents or two moms or two dads (or one or two of each!), this journal is for you. Versatile and customizable it is the ultimate treasure chest for your family history—in all its iterations.
Throughout the journal, each section allows multiple opportunities to add many branches to allow inclusion of all forms of family.
Part 1 – The Family:
Provides prompts to list all key family members, as well as extended or distant relatives and ancestors; and touching on distinct talents, accomplishments, noteworthy events.
Part 2 – Family Traditions, Lore, and History:
Provides prompts and inspiring quotes relating to such subjects as Holiday traditions; Recipes; Education/Schools; Trades and associations; War and conflict; Family stories, rumors, and tall-tales; Family sayings; Homes; Pets, Family heirlooms and their stories; Immigration stories; Family reunions and vacations
Charming illustrations and inspiring prompts and quotes make this guided journal a perfect gift for every member of the family. Beautifully designed and offering plenty of space for families to share their unique stories and keep a living record of memorable experiences. This is a memory book to keep forever.
Lots of room to record details and family stories
Printed on wood-free paper for easy journaling
Thoughtful prompts and inspiring quotes elicit meaningful memories to cherish
Sturdy pocket in back endpaper to hold memorabilia
Includes a fill-in family tree