Gratitude: The Startling Impact of Giving & Receiving Appreciation (Paperback)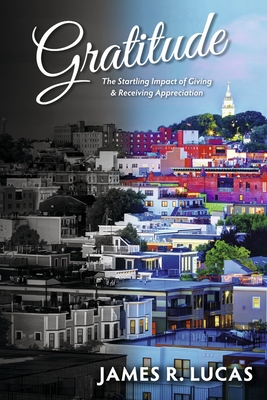 $18.95

Usually Ships in 3-6 Days
Description
---
This book offers you an opportunity to radically change your life for the better, with only a very little investment of time. Sound like a miracle? Well, the change is a miracle. There's no other investment in the world that provides this large a return on this small an investment. This book will show you how to make that investment, and will help you see the profuse rewards of those outsized returns on your life and the lives of those around you.

Author James Lucas opens the book with three chapters that may startle you, even as you recognize that what he is saying is absolutely true. He writes first of all that we need to be watchful, because genuine gratitude is easy to dismiss, devalue and lose. Then he shakes off a hundred things we believe to be true, when he writes without equivocation that no one owes us anything. He then leads us into a place that is the opposite of wishful thinking, what he calls "the art of being amazed by everything." And he means everything.

James devotes the next 5 chapters of this book of pilgrimage to walking through the giving of genuine gratitude. He shows you what it does for others, and what it can do for you. He starts with the "easy one," being thankful for what people do for us. But then he broadens our view exponentially. This view includes: being thankful for what people are doing even if they're not doing it for us; making people feel seen and known; special gratitude for the most special ones in our lives; the unique concept of "flashback" gratefulness; and the hope-filled idea of second-chance gratitude.

He doesn't stop there. In the following 5 chapters he walks us through the receiving (or not receiving) of gratitude. As before, he starts with the "easy one," responding to gratitude from others. He then challenges us to be grateful for some things that don't easily pop into our minds when we want to be thankful. This includes gratefulness for what we didn't get (both good and bad); and even more in the thankfulness distance, being grateful for the bad things that kept us from the worse things. And then he gets down to the really harsh realities of ingratitude.

The author pulls no punches on the problem of ingratitude. He talks about the best ways to respond to others when they show ingratitude for us or for what we're doing, which can leave us lost at sea. And then he takes on the toughest issue in the world of gratitude – what we should do when other people return bad for our good, not just showing unearned ingratitude, but hitting us hard with a soul-shattering blow that can be deeply disturbing, or can even wipe us out.

In the final 3 chapters, James closes this book with hope, if we choose to grasp and hold on for dear life to this elusive thing called "gratitude." He shows us how gratitude can be grown dramatically from an action into a life. He talks in depth about the problems – he calls them "diseases" – that genuine gratitude can heal. And finally, he shows us that displaying and sharing gratitude isn't a full-time job or vocation, but rather an expansive way of living that can be expressed (and built) every day, in the smallest and easiest of interactions.

The author is certain that living out this way of life will touch your family and friends, will transform your world, and will impact your own soul in ways you cannot imagine until after you take the first resolute step and go for it.
About the Author
---
James Lucas is the author of 24 previous books in a wide array of topics. These include leadership, organizational culture, practical ethics, relationships, family and parenting, national ideals and goals, theology and religion, and fiction. His books have been translated into a variety of languages, including Japanese, Portuguese, Korean, English (for India), Chinese, Arabic, and Russian.

His titles include:
?Fatal Illusions
?The Passionate Organization
?High-Performance Ethics
?Am I the One?
?The Paradox Principle of Parenting
?The American Ideas
?Knowing the Unknowable God
?Last Ship Out

James founded a leadership training and consulting firm, Luman Consultants International (www.luman.co). He has worked with hundreds of leaders in dozens of organizations around the world, and has spoken in person to over 200,000 people. He is a recognized worldwide as an authority on entrepreneurship, engineering management, project management, organizational development, and leadership. Steve Forbes of Forbes Corporation has written, Jim Lucas is an internationally recognized authority on leadership and organizational life….You can take what he says to the bank – both figuratively and literally.

James also founded Epic Medical Concepts & Innovations to develop and bring to market next-generation, human-health-advancing medical devices to market (www.emci.co), including a unique neurological device for brain research and stroke therapy (www.galileo-somatosensory.com). He works closely with research universities and scientists in this ground-breaking work. Other technologies include cardiothoracic surgery post-operative care; arterial protection from destructive emboli during transaortic heart valve replacement (TAVR); minimally invasive tools for laparoscopic surgery; and accurate measurement of deterioration in diseases such as Parkinson's.

James has multiple degrees in engineering and multiple professional engineering licenses. He is the holder of 6 medical-device patents. He also has received graduate education in economics and theology. He also wrote and taught the American Management Association's Management Course for Presidents.

The author says that he wandered into the importance of gratitude over years of discovery. "I was more of a pilgrim than a researcher," he says. "I started with myself. I began to realize that I was taking a lot for granted, including people. At the same time I found myself complaining about things that I didn't have or couldn't get or that just weren't being done efficiently."

He came across an ancient writing from Thessalonica, Greece which read, "Give thanks in all circumstances" which led him to experiment. "I thought, 'my former approach isn't bringing me much satisfaction. I'm going to try something different.' So I started to notice people and what they were doing good, both for me and for others. And so I just launched out there and started thanking everybody for everything. I was startled to discover that I was griping less and feeling a whole lot better about life. So I kept it up. I was surprised at how such a tiny investment produced such a gigantic return, both for me and for others. I found that gratitude is the 'secret sauce' for life."

James spent years enthusiastically applying gratitude before he thought he had enough experience to let others in on his vibrant discovery. The book, Gratitude, is the result of his entertaining and transforming pilgrimage.