The Spiritual Path to Prosperity... The Truth about Money Revealed (Paperback)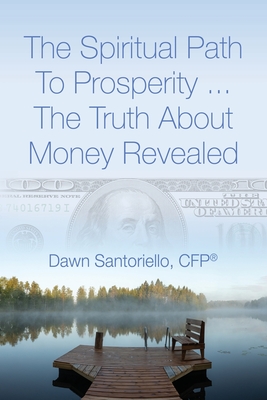 $24.99

Usually Ships in 3-6 Days
(This item cannot be returned.)
Description
---
Have you ever felt "stuck" in your financial goals? Have you spent years struggling to pay off debt while also trying to save for your future? In The Spiritual Path to Prosperity...The Truth about Money Revealed, author Dawn Santoriello, CFP(R) gives you the tools to determine why you're facing these "money blocks" and how to clear them. She offers her deep knowledge of the financial world by sharing tips and tricks for investing your money to grow your wealth as well as proven strategies for saving.
More than that, Dawn gives you a glimpse into her own story by sharing her financial tragedies and triumphs. A graduate of Adelphi University with a BS in Finance and a CERTIFIED FINANCIAL PLANNER(TM), Dawn studied for years and she wants to help you achieve your financial goals.
This book includes simple illustrations and charts to make a tough subject easier to understand. Using language that is clear and concise, Dawn walks you through many different financial topics, including how to properly invest your money, how to pay for college, and the ins and outs of having a mortgage.
With her belief that positive thoughts create positive circumstances, Dawn brings a spiritual element to her financial strategies. She gives you a step-by-step guide to creating the life you want by releasing any blocks you have regarding money and asking your Higher Power for assistance. In this book, she includes the prayer that dramatically changed her life-and her finances
Once you say this prayer and take these steps toward your financial goals, you can have the life you want...or even something better
About the Author
---
Dawn Santoriello, CFP® is the founder and CEO of DS Financial Strategies, a fee-based financial planning firm that develops customized plans designed to maximize the efficiency of your money. Born in Brooklyn, NY and raised in Long Island, Dawn graduated from Adelphi University with a BS in Finance. She currently lives in King of Prussia, PA. Away from the office, you can find Dawn living true to her Wellness and Wealth lifestyle by hiking, kayaking, mountain biking, and meditating. Dawn was the former host of Conquer Your Finances, Conquer Your Life on RVN TV. She has been published in numerous blogs and journals, including Wealth Planning Advisor and Let's Talk Philadelphia and has been featured in Forbes, Investment Advisor, Market Watch, and The Philadelphia Inquirer. Be sure to check out Dawn's YouTube page (DS Financial Strategies) for "Financial Friday's with Dawn."
Praise For…
---
The Spiritual Path to Prosperity is a must-read, especially for those of us who are financially challenged. Ms. Santoriello explains the inner workings of money in a clear and concise way, which I found most helpful. As a spiritual person, I really appreciated the spirituality that Ms. Santoriello brought to this topic. It's an excellent reminder that having all your ducks in a row is important, but so is relying on your Higher Power. I learned so much from reading this book, and I urge you to get yourself a copy! ~Brigid Levi

I want to start investing for my future because I understand I'll never get this time back but everything I've read, all the advice I've received has been so complicated and confusing. I assumed financial advisors only worked with wealthy people. How nice to learn there are trustworthy people that will work with me! Life insurance is something I considered myself much too young to consider. The way this author presented and explained insurance and investing was invaluable for me. ~Morgan Timm college student

This book is timely for young adults as well as baby boomers and everyone in between. It's a relevant, enjoyable, and helpful book about the interplay between money and spirituality, and how we are all affected by both. The personal stories the author shares about herself and others left me feeling like I was receiving sage advice from a friend. Insurance has always seemed so complicated to me. Dawn explained it so clearly and the illustrations are clear and precise which made the information so much simpler to comprehend. I plan on gifting this book to college graduates, newlyweds, and empty nesters. ~Doreen McGettigan