Biblia Reina Valera letra súper gigante, símil piel fucsia / Spanish Bible Reina Valera Super Giant Print, Fuchsia Leathersoft (Paperback)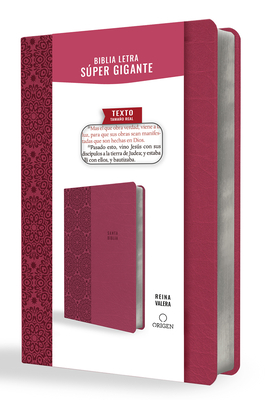 $37.99

Usually Ships in 3-6 Days
Description
---
El regalo perfecto para quienes buscan una Biblia en español con letra gigante.
 
La Biblia Reina Valera 1909 con letra súper gigante es el regalo ideal para cualquiera que ame la belleza de la confiable edición de 1909 de las Escrituras en su versión tradicional Reina Valera. Esta hermosa Biblia de 7 x 10 pulgadas ya se encuentra disponible en una tipografía enteramente nueva y nítida, de 16 puntos.

La Biblia también incluye: la Palabra de Cristo en rojo, subtítulos consecutivos, plan de lectura de la Biblia, página de dedicatoria y cinta marcadora. Es perfecta para el estudio privado, para quienes les cuesta trabajo leer su vieja Biblia o solo como una lectura inspiracional. Esta Biblia es el regalo perfecto para padres y abuelos por igual.

ENGLISH DESCRIPTION

The perfect gift for those looking for giant print Spanish Bible.

The Reina-Valera 1909 Super Giant Print Bible is a perfect gift for anyone who loves the beauty of the trusted 1909 edition of the Scriptures in the traditional Reina-Valera version.

This beautiful trim 7 X 10 Bible is now available in crisp 16 point all new typeset.

This Bible also includes: Words of Christ in red, running subheads, Bible reading plan,
presentation page, and a ribbon marker. It's perfect for personal study, those struggling to read their old Bible, or just for inspirational reading. This Bible makes the perfect gift for parents and grandparents alike.
About the Author
---
La Reina Valera es una de las traducciones de la Biblia al español más frecuentemente utilizadas entre los protestantes hispanohablantes. La actual Reina Valera es el resultado de un conjunto de revisiones hechas por las Sociedades Bíblicas Unidas sobre una de las primeras traducciones de la Biblia español. La Reina Valera tuvo una amplia difusión durante la Reforma protestante del siglo XVI.

Siendo por poco más de 4 siglos la única biblia de uso dentro de la iglesia protestante de lengua castellana. Hoy en día, la Reina Valera con varias revisiones a través de los años (1862,1909,1960,1995,2011) es una de las biblias en español más usadas por gran parte de las iglesias cristianas derivadas de la Reforma protestante.
Sit 'n Knit