Nature's Best Hope (Young Readers' Edition): How You Can Save the World in Your Own Yard (Paperback)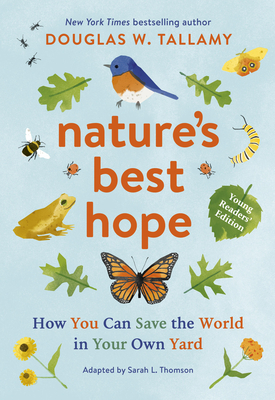 $8.99

On Our Shelves Now (Please allow up to 48 hours for curbside pickup.)
Description
---
This middle grade edition of the groundbreaking bestseller by Doug Tallamy will inspire kids to use their backyard to help save the planet.

Douglas W. Tallamy awakened thousands of readers to an urgent situation: wildlife populations are in decline because the native plants they depend on are fast disappearing. His solution? Plant more natives. In this middle grade adaptation of the New York Times bestseller Nature's Best Hope, Tallamy outlines his vision for a grassroots approach to conservation that everyone can participate in regardless of age. 

In Nature's Best Hope (Young Readers' Edition), Tallamy empowers kids to use their own yards to help combat the negative effects of climate change. He does so by breaking down complex concepts into simple terms and real-world examples that kids can easily grasp. Black and white photographs help further clarify concepts. In addition to sharing the science, Tallamy encourages kids to take direct action. Some of these ideas include planting an oak tree (one of the most important tree species) at home. If that's too large of a task, he suggests they can plant asters—a beautiful flower whose pollen bees use to feed their young. By helping the next generation see that they have power and agency over our collective future, this empowering book will drive home the positive point that kids are truly nature's best hope.
About the Author
---
Doug Tallamy is a professor in the Department of Entomology and Wildlife Ecology at the University of Delaware, where he has authored 97 research publications and has taught insect-related courses for 40 years. Chief among his research goals is to better understand the many ways insects interact with plants and how such interactions determine the diversity of animal communities. Among his awards are the Garden Club of America Margaret Douglas Medal for Conservation and the Tom Dodd, Jr. Award of Excellence, the 2018 AHS B. Y. Morrison Communication Award, and the 2019 Cynthia Westcott Scientific Writing Award. Doug is author of Bringing Nature Home, Nature's Best Hope, and The Nature of Oaks; and co-founder with Michelle Alfandari of HOMEGROWN NATIONAL PARK®. Learn more at HNPARK.org. 
Sarah L. Thomson has written over thirty books for young readers, including poetry, prose, fiction and nonfiction. She lives in Portland, Maine.
Praise For…
---
"An appeal to kids to notice the plants and critters living in their backyards and local neighborhoods, to study the details of their lives, and witness the interdependence of living things… dedicated climate activists will appreciate the fresh ideas and arguments."—Booklist

"This is a perfect book to give to middle schoolers in your life. It might just change their lives—and our lives too."—Garden Club of America, The Real Dirt

"Doug Tallamy is the godfather of the native-plant movement."—The Washington Post

"Authors like Tallamy are aying the groundwork for a better climate future by tapping into children's inborn compassion, curiosity and sense of justice…These books explain how important it is for everyone to help, kids included, and they give the adults no place to hide. If a child can care so much, shouldn't we care, too?"—The New York Times

"With this book, kids will gain an understanding and appreciation of just how birds, insects, and plants live their lives. From there, they'll likely be compelled to help these wild neighbors thrive…it promises a bright future." —Horticulture

"A great introduction to conservation for middle grade readers, bringing the message home in a very real, direct way."—Book Riot

"Tallamy opens an honest conversation with children about the ecological dangers facing our planet and the direct, positive impact we can have in our own yards."—The American Gardener
Sit 'n Knit