Now Is the Time for Trees: Make an Impact by Planting the Earth's Most Valuable Resource (Paperback)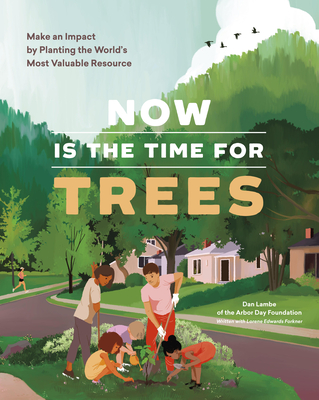 $19.95

Coming Soon - Available for Pre-Order Now
Description
---
Planting a Tree is an Act of Hope

Trees and forests are the number one nature-based solution for revers­ing the negative effects of a changing climate. If ever there was a time to be planting trees, that time is now.
 
Inspired by a collective sense of urgency, a global movement to plant trees is gaining momentum. To move the needle, we need to act on a massive scale and plant millions of trees today to have a measurable and lasting impact on billions of lives tomorrow. In Now Is the Time for Trees, the experts at the Arbor Day Foundation will inspire you to do your part by showing you everything you need to know to plant trees at home or in your community. From advice on choosing the right size and type of tree to tried-and-true tips for planting success, this book will help you plant a tree today and leave your own legacy of hope.
 
Equal parts inspiration and advocacy, Now Is the Time for Trees is a rousing call for environmental action and a must-have book for nature lovers everywhere.


 
About the Author
---
The Arbor Day Foundation is the largest 501(c)3 nonprofit membership organization dedicated to planting trees. More than 1 million members, supporters, and valued partners have helped us plant more than 350 million trees in neighborhoods, communities, cities, and forests throughout the world to ensure a greener and healthier future for everyone.

Dan Lambe is the president of the Arbor Day Foundation, founded in 1972, which has grown to become the largest non-profit membership organization dedicated to planting trees, with over one million members, supporters, and valued corporate and institutional partners.

Lorene Edwards Forkner lives, works, and gardens in Seattle, Washington. She is the former editor of Pacific Horticulture and the author of The Handmade Garden and The Timber Press Guide to Vegetable Gardening in the Pacific Northwest.
 
Praise For…
---
"Reforestation is a practical and actionable way to make significant progress…Every one of us can join this movement." —Marc Benniof, Chair and CEO, Salesforce 
 
"You can learn a lot about a community by simply counting the number of trees in it. Those with plentiful trees are the communities that have histor­ically been invested in; those where no one has bothered to plant a tree are the communi­ties that have been ignored." —Soledad O'Brien, journalist