Keller's Heart (Hardcover)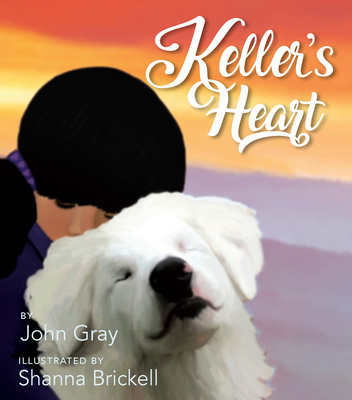 Description
---
Two friends teach the world to see people by the only thing that really matters...the heart.​
 
This is the story of two special friends, a girl and a fluffy dog, who rescue each other. The girl is Raven. She's deaf. Children at school are hesitant to play with her, as if she'll break. The fluffy dog, when his first owner realized the puppy couldn't hear or see, was left by the side of the road.
 
From the moment these two meet, they understand each other. Raven asks her parents if she can adopt the dog from the local animal shelter. "She'd just read a book about an amazing woman who was deaf and blind named Helen Keller, so she called him Keller."

Raven teaches Keller sign language. Keller becomes Raven's best friend. Together, they show those around them that it is OK to be different and that everyone needs a friend.
About the Author
---
John Gray is an Emmy Award-winning television journalist and columnist in upstate New York, and the author of three popular children's books, God Needed a Puppy, Keller's Heart, and Sweet Polly Petals, and his debut novel, Manchester Christmas. John's books have captured the hearts of readers around the world. His heart shines through his uplifting stories, teaching children that kindness is the path to happiness. John donates a generous portion of book sales to help others; he has given $30,000 to more than 50 animal shelters around the country. John is a father of three and lives in upstate New York with his wife, Courtney, and their five dogs; three of which are rescues.
Praise For…
---
"I want you to meet Keller. This is a wonderful story. So Keller was born in 2017. He was born deaf and blind. He was like abandoned by the side of train tracks. He's a really cute little dog. Animal control found him, recommended putting the puppy down as an act of mercy due to his disabilities but a surgeon took a chance on Keller, cleaned him up and eventually John Gray and his family fell in love with him during a visit to the shelter. They brought him back and they've created this book with beautiful illustrations called Keller's Heart. It's written by John to inspire others maybe with special needs and let them know, it's okay to be different. So congratulations to John Gray and his family and of course, Keller, and I think this book's very cute." —Dana Perino, Fox News