Foot Trodden: Portugal and the Wines that Time Forgot (Hardcover)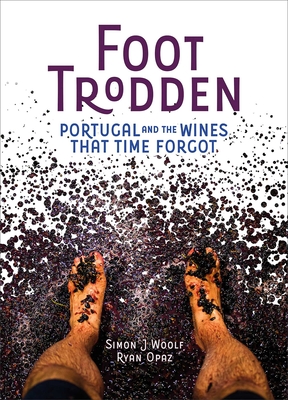 $35.00

Usually Ships in 3-6 Days
Description
---
NEW YORK TIMES BEST WINE BOOK OF 2021

A stunning book on one of Europe's top wine-producing countries


Portugal's rich wine culture dates back at least two millennia. Its vineyards teem with fascinating native grape varieties and its cellars harbor heritage wine styles and ancient techniques (including foot treading in stone troughs) that have died out elsewhere.

Foot Trodden is a book for everyone who loves a good story, wine, Portugal or modern social history—and for anyone who wants to dig deeper into Portuguese culture and the Portuguese soul. Written in an accessible, narrative style, this book is above all else about the people behind the wines: the challenges they faced, what drives them, and how they succeeded against the odds to put Portugal on the map.

With 80 specially commissioned photos, beautiful layout and design, Foot Trodden is crammed full of detail and depth about the wines and winemaking, but it's emphatically not a text book or a Master of Wine study guide. You don't need to be a wine geek or a history nut to enjoy it—this book is written for everyone.

Through eight chapters, Foot Trodden takes you on a journey from north to south, from the past to the future. The diversity of characters, landscapes and wines will have you salivating for your next bottle of Portuguese wine—and dreaming of the moment when you visit these historic winemaking regions.
About the Author
---
Simon J. Woolf is a wine writer and award-winning author of Amber Revolution: How the World Learned to Love Orange Wine, winner of the Roederer Wine Book of the Year Award 2019 and selected New York Times Best Wine Book of 2018, Forbes magazine Notable Wine Book of 2018, and Star Tribune Great Wine Book 2018. He specializes in writing about the developing natural wine niche, including organic and biodynamic winemaking. He is the founder and editor of The Morning Claret, and writes for the international wine press including Decanter magazine, Wine Business International, and Noble Rot. Simon recently authored The Wine Lover's Bucket List: 1,000 Amazing Adventures in Pursuit of Wine, an inspirational compendium of ideas for global wine travel.
Praise For…
---
"[A] delightful grape-filled tour of the country … and a deep dive into the ancient art of talha winemaking, where grapes are crushed by foot, then fermented in large clay vessels that are eventually sealed over with a paste made of resin, olive oil, and beeswax. For those curious about the wider world of wine, this sweeping history will bear fruit."
— Publishers Weekly

NEW YORK TIMES BEST WINE BOOK OF 2021

"'Foot Trodden: Portugal and the Wines That Time Forgot' by Simon J. Woolf and Ryan Opaz is an excellent introduction to the obscure history of Portuguese winemaking and its vitality and dynamic potential... a worthy project, beautifully done."
— Eric Asimov, New York Times

Longlisted for the 2021 André Simon Food and Drink Book Awards

2022 James Beard Award Nominee, Best Beverage without Recipes Book

Wide World of Wine "Wine Book of the Year"

"A terrific trip to Portugal: Punchy, evocative, and filled with great stories … dressed with Ryan Opaz's superb photography … the book taps into much that is beloved of Portuguese wine … The authors have written a great book that reinforces the importance of supporting independent wine producers, most especially those who are actively preserving traditional grapes and authentic local styles."
— The World of Fine Wine

"Exquisite … elegant design and layout … evocative, almost emotional photography by Ryan Opaz. It's a clarion call. It's an eloquent, heartfelt cry to the world to wake up and take action to support the 'small guys' who are sweating blood and tears, often putting their very living on the line, to turn the tide of industrial, placeless wine in Portugal."
— jancisrobinson.com

"If have to name my Wine Book of the Year, then there is only one real candidate … [Foot Trodden] is immaculately produced and special mention must be made of the brilliant photography of Opaz. Woolf is a compelling writer on any subject, able to blend a story with the required facts and analysis. But most of all, this is a wine book which is just right for the time. Always under-appreciated, Portugal seems finally to have gathered a critical mass of younger artisans who have a focus on their country's traditions, whilst equally having learnt lessons from modern European wine. This is the perfect time for these stories to be told. I am sure that Foot Trodden will do the same for Portugal as Amber Revolution did for 'orange' wines."
— Wide World of Wine

"The cover image of bare feet stomping grapes in a lagar, the traditional shallow stone basin for treading fruit, beckons you to dive in. The book, which reads like a love letter to the country's winegrowers, serves as a jumping-off point to consider the topic of red blends."
— Ellen Bhang, The Boston Globe
Sit 'n Knit