Fairy Gardening: Creating Your Own Magical Miniature Garden (Paperback)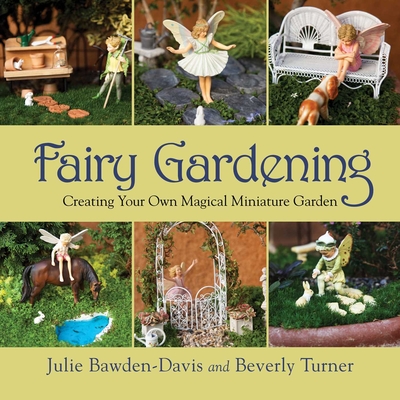 $16.95

On Our Shelves Now (Please allow up to 48 hours for curbside pickup.)
Description
---
Design, plant, accessorize, and care for your very own fairy garden by choosing the perfect container, planting luxurious pint-sized plants, decorating with properly scaled accessories, and telling a story through the delicate fairies you choose.

Fairy gardens are enjoying an astonishing surge in popularity and now you can begin making your own enchanting miniature landscapes, complete with pint-sized accessories, diminutive plants, and quaint fairy figures. Gardeners Julie Bawden-Davis and Beverly Turner provide you with step-by-step instructions for creating a magical garden that will attract Thumbelina herself!

Included are full-color photographs showcasing various types of fairy gardens and accessories, which are sure to inspire the designer in you! And best of all, these perennial gardens are perfect for the busy gardener, as they require less than ten minutes per week to maintain—this could be your new favorite hobby!

For the inner child in us all, Fairy Gardening is sure to enchant both the novice and the experienced gardener who wishes to stir up Lilliputian flights of fancy.
Praise For…
---
"With lots of simple projects and cheerful inspiration, this is a fun addition to the hobbyist world for the young and the young-at-heart." —Publishers Weekly

"Beautiful photographs of miniature gardens that will bring big joy to your life." —Library Journal

"This book is sure to become the go-to manual for miniature gardening. Practical actions and whimsical thought are woven together in a delightful juxtaposition that will have readers reaching for their drawing pads." —Inside Belleville

"Fairy Gardening…shows how to plant and accessorize gardens that, like bonsai, create miniature worlds, but require a fraction of the time and care." —The San Francisco Chronicle

"Whether you have children or just a fanciful inner child, consider checking out this book for inspiration to create your own tiny, beautiful, inspiring fairy gardens." —About.com, Small Farm

"Turner and Bawden-Davis do not disappoint. Fairy Gardening truly is filled with heart and it will warm yours to find, and enjoy reading, this delightful book."—Kitsap Sun

"Julie Bawden-Davis and Beverly Turner make fairy gardening a fun project where even a newbie can create magic."&mdash:The Country Registe

"Crammed full of ideas, the photos alone are worth the price of the book." —Newstimes

"…this book is not just about placing fairies around a tiny garden; it is about thinking inwardly, reflecting on what you love in a garden, thinking about movement and action and telling a story with a past, present and future, all depicted with plants and stationary objects in a miniature garden." —Dig It! Magazine

"With lots of simple projects and cheerful inspiration, this is a fun addition to the hobbyist world for the young and the young-at-heart." —Publishers Weekly

"Beautiful photographs of miniature gardens that will bring big joy to your life." —Library Journal

"This book is sure to become the go-to manual for miniature gardening. Practical actions and whimsical thought are woven together in a delightful juxtaposition that will have readers reaching for their drawing pads." —Inside Belleville

"Fairy Gardening…shows how to plant and accessorize gardens that, like bonsai, create miniature worlds, but require a fraction of the time and care." —The San Francisco Chronicle

"Whether you have children or just a fanciful inner child, consider checking out this book for inspiration to create your own tiny, beautiful, inspiring fairy gardens." —About.com, Small Farm

"Turner and Bawden-Davis do not disappoint. Fairy Gardening truly is filled with heart and it will warm yours to find, and enjoy reading, this delightful book."—Kitsap Sun

"Julie Bawden-Davis and Beverly Turner make fairy gardening a fun project where even a newbie can create magic."&mdash:The Country Registe

"Crammed full of ideas, the photos alone are worth the price of the book." —Newstimes

"…this book is not just about placing fairies around a tiny garden; it is about thinking inwardly, reflecting on what you love in a garden, thinking about movement and action and telling a story with a past, present and future, all depicted with plants and stationary objects in a miniature garden." —Dig It! Magazine