Present through the End: A Caring Companion's Guide for Accompanying the Dying (Paperback)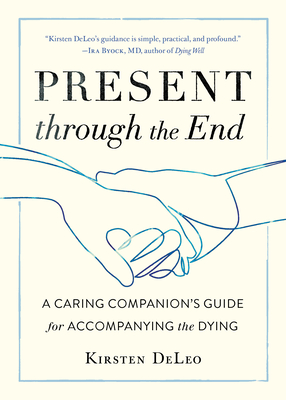 Description
---
A trusted companion and go-to resource for everyone supporting someone at the end of life--from the moment we first learn that someone is dying through the time of death and beyond.

Present through the End offers the guidance and essential wisdom we need when we are struggling to support someone who is nearing death. This book helps us meet the many challenges ahead and navigate through difficult times with clarity and kindness--both for the person who is dying and also for ourselves.

Inspired by decades of experience caring for the dying and years teaching contemplative care around the world, Kirsten DeLeo shares down-to-earth advice and offers short, simple "on the spot" tools to help us handle our emotions, deal with difficult relationships, talk about spiritual matters, practice self-care, listen fully, and more. This book offers insight and encouragement when we are unsure what to do or say and shows us how to be present even though we may feel utterly helpless, love when loss is just around the corner, and be fully alive to each moment as time runs out.
About the Author
---
KIRSTEN DELEO is an international trainer with the Spiritual Care Program, an outreach network that offers education and care in eleven countries. For fourteen years she served as lead faculty of "Authentic Presence," a professional certificate in contemplative end-of-life care that was launched at Naropa University and now runs as an independent program. She is a member of the Buddhist Ministry Work Group, an initiative of Harvard School of Divinity. Kirsten has been teaching in the field of contemplative care for more than twenty-five years, is a counselor, and has been immersed in Buddhist practice for over twenty years, including a three-year meditation retreat.
Praise For…
---
"Kirsten DeLeo has distilled timeless wisdom into a clear, accessible, and thoroughly helpful book. Rather than explain what to say or do, DeLeo shows us how to be with people who are approaching life's end. Her guidance is simple, practical, and profound: Show up. Arrive with love—for yourself and the person you are visiting. Lean forward. Listen. Remember to breathe."—Ira Byock, MD, author of Dying Well and The Best Care Possible

"Present through the End is a practical and meaningful book that is sure to be of immense benefit to anyone caring for a friend, family member, or patient who is facing the end of their days."—Christine Longaker, author of Facing Death and Finding Hope
 
"Kirsten DeLeo invites us to be daring and sit with our own discomfort as we hold space and accompany the dying. DeLeo shares her wisdom with warmth and respect. A must-have guidebook that is thoughtful, accessible, and offers practical tools for caring companions."—Cheryl A. Giles, co-editor of The Arts of Contemplative Care
 
"Kirsten DeLeo's Present through the End teaches essential lessons in the art of presence. This book is extraordinarily profound and yet simple as it leads the reader through practices to enhance listening, compassion, and mindfulness, and offers wise advice for negotiating the challenges of the dying process. With this inspirational book as a guide, care providers will transform death and dying for their patients and loved ones, while also deepening their own ability to create a sacred and healing space within."—Karen Wyatt, MD, author of What Really Matters
 
"Through storytelling and rich personal experience, Kirsten DeLeo invites us to a more compassionate attitude toward death and our own mind. She teaches us how to walk gracefully with those who are dying and helps us befriend our fears of not being able to do enough. She shares the method, beauty, and power of simply being."—Angela C. Anderson, MD, Brown University, Hasbro Children's Hospital
 
"Most of us come upon death unexpectedly and unprepared. So what to do? Kirsten DeLeo's book provides practical answers—compassionate, knowledgeable, heartfelt, doable. This is a book everyone needs to read; this is a book that can transform the experience of death."—Ian Gawler, author of Blue Sky Mind
 
"Kirsten DeLeo's Present through the End is a must read for anyone who is caring for seriously ill patients or loved ones. Serious illness and the prospect of dying can trigger deep spiritual and existential suffering. Crying out in the presence of a sensitive listener can help the person eventually find peace but, even more importantly, experience love and acceptance. DeLeo offers readers simple, practical skills in being present to another and to ourselves. All clinicians, medical, nursing, and other health students need this guide to learn to integrate the art of presence in their clinical care."—Christina M. Puchalski, MD, OCDS, George Washington University's Institute for Spirituality and Health, author of Making Health Care Whole