Frantumaglia: A Writer's Journey (Paperback)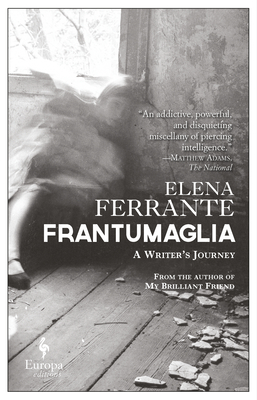 $17.00

On Our Shelves Now (Please allow up to 48 hours for curbside pickup.)
Description
---
Named one of The Guardian's "Best Books of 2016"

From the author of My Brilliant Friend

This book invites readers into Elena Ferrante's workshop. It offers a glimpse into the drawers of her writing desk, those drawers from which emerged her three early standalone novels and the four installments of My Brilliant Friend, known in English as the Neapolitan Quartet. Consisting of over 20 years of letters, essays, reflections, and interviews, it is a unique depiction of an author who embodies a consummate passion for writing.
 
In these pages Ferrante answers many of her readers' questions. She addresses her choice to stand aside and let her books live autonomous lives. She discusses her thoughts and concerns as her novels are being adapted into films. She talks about the challenge of finding concise answers to interview questions. She explains the joys and the struggles of writing, the anguish of composing a story only to discover that that story isn't good enough. She contemplates her relationship with psychoanalysis, with the cities she has lived in, with motherhood, with feminism, and with her childhood as a storehouse for memories, impressions, and fantasies. The result is a vibrant and intimate self-portrait of a writer at work.


About the Author
---
Elena Ferrante
is the author of
The Days of Abandonment
(Europa, 2005),
Troubling Love
(Europa, 2006),
The Lost Daughter
(Europa, 2008) and the Neapolitan Quartet (Europa 2012-2015). She is also the author of a children's picture book illustrated by Mara Cerri,
The Beach at Night
.
Ann Goldstein has translated into English all of Elena Ferrante's books, including the New York Times bestseller, The Story of the Lost Child, which was shortlisted for the MAN Booker International Prize. She has been honored with a Guggenheim Fellowship and is the recipient of the PEN Renato Poggioli Translation Award. She lives in New York.
Praise For…
---
Praise for Frantumaglia

"Frantumaglia [may be] her most experimental text yet, a massive prank on criticism and the media: all of it done to show us how badly we read what we read, how badly women writers are treated, and how badly the press operates."
—Alexander Chee, New Republic 

"Elena Ferrante (for that is her real name, regardless of the private identity of the woman who uses it in public) has created a body of work that stands alone. This represents an entire world, made up of language, family, gesture, emotions, politics and culture."
—Roxana Robinson, The Washington Post

"Frantumaglia offers a chance to consider [Ferrante's] strange, spectral presence in the world of letters."
—Elaine Blair, The New York Times Book Review

"Now, American readers hungry for every Ferrante sentence they can get will find many here in which she lowers her knife through the bread of life with the same startling force as she does in her novels."
—The Los Angeles Times

"In Ferrante's invention, experience is fluid, not limited to the border of any particular self...Her world, as far as any reader should be concerned, easily maintains its integrity."
—Los Angeles Review of Books

"Ferrante's work is not about women or friendship or abandonment: It is, rather, about a sense of the deep-down rawness of life itself—which runs like an electrical current beneath the prose—and it is responsible for the thousands of pages of writing she has sent out into a world of readers hungry to feel alive to their own perilous condition."
—Vivian Gornick, The Nation

"It is an addictive, powerful, and disquieting miscellany of piercing intelligence, restless questioning, compulsive rumination, equable uncertainty, courteous self-possession, quiet generosity."
—The National

"While this collection will be most enticing to those already reading Ferrante, it's also a feast for writers, lovers of literature, and creators of all kinds."
—Booklist

"To be a woman is to live in a state of flux. At her wisest, Ferrante's writing reverses literary tradition so that it's the experience of being a woman that becomes the universal."
—Dissent Magazine

"So here is Ferrante in written fragments...She's anxious and protective; warm and kind; a woman is who simultaneously politically engaged and an aesthete...But her intellect isn't cold, her application of theory isn't done objectively—the women that populate her novels are not merely flat, fictional objects to Ferrante, rather they're real and visceral ('the word is always flesh')."
—Jezebel

"I must confess that the words of Ferrante that have captivated me the most are included in Frantumaglia—something she wrote about writing." 
—Asymptote

"Ferrante's true readers (as opposed to fans – she draws a sharp distinction between the two) will be grateful for Frantumaglia and the story it tells, which is exquisite, regardless of those who would fact-check her."
—The Millions

"This is a fascinating volume, as ever beautifully translated by Ann Goldstein. At times, it is as absorbing as Ferrante's extraordinary fictions and touches on troubling unconscious matter with the same visceral intensity."
—The Guardian

"In Frantumaglia there are some outstanding passages of literary criticism, feminist theory, film studies, sociology and philosophy. As a reader one longs to forget the gossip about her identity and just appreciate her as a critical thinker."
—The Sunday Times

"Never less than compelling...As a book of fragments, the title refers to the nature of the contents. But it also speaks to a vision of the self that is communicated throughout the material: human identity as something partial, fragmented, conflicted and heterogeneous."
—The Australian

"[Frantumaglia is] a magnificent jumble of insights, reactions, and philosophical play."
—Lili Loufbourow, The Week Magazine

"We learn plenty about Ferrante in the pages of Frantumaglia...Ferrante has long maintained that everything we need to know about her is in her novels. Frantumaglia rounds out this picture."
—Toronto Star

"Her letters and interviews are decidedly not mere chatter: they, too, are literary works. They show artistry and imagination, and Ferrante even notes the difficulty of answering interview questions because they lead her into a complicated maze of storytelling, artifacts, and searching."
—The Kenyon Review

Praise for Elena Ferrante

"Elena Ferrante's decision to remain biographically unavailable is her greatest gift to readers, and maybe her boldest creative gesture."
—David Kurnick, Public Books
 
"Everyone should read anything with Ferrante's name on it."
—Eugenia Williamson, The Boston Globe
 
"Ferrante has written about female identity with a heft and sharpness unmatched by anyone since Doris Lessing."
—Elizabeth Lowry, The Wall Street Journal
 
"Ferrante has become Italy's best known writer. In our era of social media accessibility, shameless self-promotion, and hot young celebrity culture, this is nothing short of astounding."
—Gina Frangello, Electric Literature
 
"Ferrante's writing seems to say something that hasn't been said before—it isn't easy to specify what this is—in a way so compelling its readers forget where they are, abandon friends and disdain sleep."
—Joanna Biggs, The London Review of Books
 
"To disagree over the quality of a Ferrante passage is often to run up against what you cannot answer or digest."
—Jedediah Purdy, The Los Angeles Review of Books
 
"Who, in American literature today, deals with the subtleties of class difference in such a painful and sensitive way, while achieving even a fraction of Ferrante's massive popularity? . . .  We must go to the fictionalized Naples of Ferrante to read the story we want to believe can happen again in our country."
—Alissa Quart, BuzzFeed