How to Buy the Right Plants, Tools, and Garden Supplies (Paperback)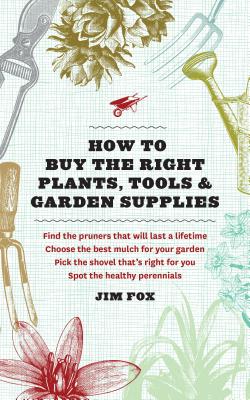 $14.95

On Our Shelves Now (Please allow up to 48 hours for curbside pickup.)
Description
---
Are you confused by all the choices when you visit a nursery? Do you get sticker shock when you see how much that nice little shade tree costs? Let Jim Fox, a nursery professional with over twenty years of experience, show you how to become a savvy garden consumer and get the most for your hard-earned landscaping dollars.
How to Buy the Right Plants, Tools, and Garden Supplies will arm you with a wealth of knowledge! You'll learn how to determine if a plant is healthy, how to choose the right size, how to correctly read the plant tag, how to choose the best tools and supplies for your needs, and how to confidently recognize a well-made tool. In addition to helping you navigate the nursery, it tells you what you need to know before you get there and offers helpful tips on how to successfully garden once you get home.
With this essential guide in hand, you'll never experience buyer's remorse again!
About the Author
---
Jim Fox has been gardening since the age of three. He works in the retail nursery business and also offers private horticultural consultation. His years of experience in answering gardeners' questions have inspired this book.
Praise For…
---
"An essential, easy-to-read guide, packed with important information that would make an excellent gift choice for a beginning gardener, as well as saving a few veteran gardeners from making costly mistakes as they tend their gardens." —Horticulture Magazine Blog

"More than a buying guide. It focuses on helping readers choose plants that will thrive and invest wisely in implements, but it also helps them understand the conditions they're growing in and teaches them how to plant properly." —Akron Beacon Journal

"Every gardener needs a friend they can run ideas past and ask questions of when they're stumped. . . . Jim Fox's new book could fill the role. . . . Full of wise advice leavened with the sense of humor any gardener needs to survive." —Country Gardens

"A handy little guide to gardening smarter. Pay attention to the wisdom in [it] and you'll save money and your back, make fewer mistakes, and end up with a more beautiful garden." —Pacific Northwest Magazine

"Chock full of advice and information for gardeners on everything from how to read and understand a plant tag to choosing the best tools for your purposes and where to site and establish your plants where they will be happiest. It gives us some common sense rules that, if followed, will help to make us successful gardeners." —Gardening with Nature