Designing with Conifers: The Best Choices for Year-Round Interest in Your Garden (Hardcover)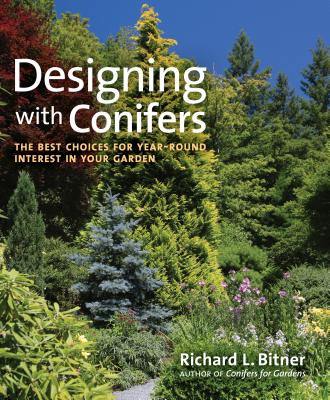 Email or call for price
Out of Print - Inquire at Store
Description
---
With blue, green, and gold foliage and shapes ranging from spiky to weeping, conifers have the potential to be garden design stars. But they are commonly misused in gardens and landscapes, leading to looming spruces squashed against a house or rows of kettledrum-shaped yews along a sidewalk. When used correctly and creatively, conifers can be star players in creating beautiful, long-lasting plant combinations or serene backyard havens.

Designing with Conifers shows readers exactly how to choose the best conifers for specific needs. Chapters cover shape, color, and conifers for specific sites and conditions, including front gardens, hedges and screens, topiary, dwarf conifers, shade gardens, Asian-style gardens, bonsai, and miniature railroad gardens. Also includes useful appendices that list of conifers for various problems and conditions, like conifers for areas plagued by deer and the best conifers for Christmas trees and Southern gardens. Each section is enlivened with gorgeous color photographs.

Whatever landscape situation or challenge a gardener designer faces, Designing with Conifers shows how to make the best choice from this beautiful, useful, and versatile group of plants.

About the Author
---
Dr. Richard L. Bitner is a retired anesthesiologist and writer of "Gardening Journey" in Lancaster Magazine. He studied horticulture at Longwood Gardens and now teaches a course on conifers at the arboretum school of the Barnes Foundation. He is a member of the Pennsylvania Horticultural Society's Gold Medal Plant Award Committee. Learn more at conifersforgardens.com. 
Praise For…
---
"Richard L. Bitner wants designers to be creative with their use of conifers, and this guide is intended to help achieve that by describing species in terms of shapes and colors, to give landscape architects a better chance to envision a plant as part of a larger plan." —Landscape Architecture

"Offers a great deal of practical information for creating harmonious landscapes that employ conifers to their best effect." —American Gardener

"Abundantly illustrated." —Reference and Research Book News

"The book features a host of dreamy, conifer-heavy gardens." —Fine Gardening

"An idea book for using conifers in garden design. . . . [that] will inspire professional designers as well as armchair gardeners. Recommended." —Choice

"Organized in a practical, gardener-friendly format." —Conifers Quarterly