Creative Careers in Photography: Making a Living with or Without a Camera (Paperback)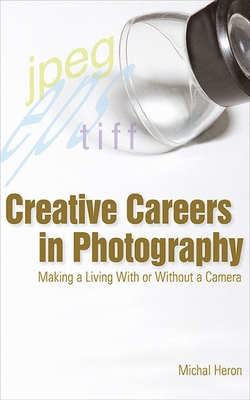 $19.95
Email or call for price
Description
---
Find the right job in photography. For anyone who loves working with photographs, here is a comprehensive guide to turning that passion into a career. Author Michal Heron, a veteran photographer, reveals the full range of possibilities, from shooting pictures to jobs that don't even require a camera. Corporate settings, editorial, media/audio-visual, fine arts, buying and selling, support services, set and location services, computer imaging, gallery and museum, teaching, writing, and many other career choices are presented. Readers will learn to assess their motivations, pinpoint their favorite areas of photography, explore lifestyle choices, understand required skills, and ultimately find the area of the industry that best matches their talents and their goals. Extra resources include listings for photography schools and professional organizations. Anyone looking for that perfect niche in the rich and rewarding photographic field will need this comprehensive book. • Examines dozens of career possibilities—many that don't require a camera • Self-assessment tools to pinpoint the perfect job, plus school and organization listings

Allworth Press, an imprint of Skyhorse Publishing, publishes a broad range of books on the visual and performing arts, with emphasis on the business of art. Our titles cover subjects such as graphic design, theater, branding, fine art, photography, interior design, writing, acting, film, how to start careers, business and legal forms, business practices, and more. While we don't aspire to publish a New York Times bestseller or a national bestseller, we are deeply committed to quality books that help creative professionals succeed and thrive. We often publish in areas overlooked by other publishers and welcome the author whose expertise can help our audience of readers.
About the Author
---
Michal Heron has been a freelance photographer for more than thirty years. She currently works on assignment for a variety of publishing and corporate clients as well as stock photo agencies. She lives in New York City.