The Spirit of the Celtic Gods and Goddesses: Their History, Magical Power, and Healing Energies (Paperback)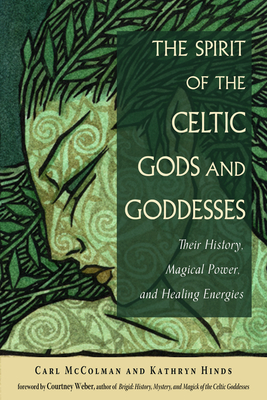 $18.95

Usually Ships in 3-6 Days
Description
---
Brings the history of these gods and goddesses to life, along with visualizations, rituals, and exercises to help make them part of the reader's spiritual practice.
Figures like Brigid, Cernunnos, Rhiannon, and the Morrigan are honored for their magic, their bravery, and their mythical deeds. Among pagans, the gods and goddesses of Gaul, Ireland, Wales, and the other Celtic lands rank with the most popular and influential of the Greek, Roman, Norse, and Egyptian pantheons.
This book provides an accessible guide for readers to learn about and connect spiritually with the gods and goddesses of the Celtic lands:

Learn key features of each of the major Irish, Welsh, and continental Celtic deities
Discover the major myths and lore associated with each deity
Create rituals and magical work appropriate for each deity
Understand the psychological archetypes of each god and goddess
Forge true and meaningful relationships with the deities for our time
Relate the various gods and goddesses to the sabbats and holy days
About the Author
---
Carl McColman is the author of several books on Christian mysticism, paganism, and goddess spirituality. Carl's work is characterized by an optimistic, expansive understanding of spirituality, rooted in Christianity while embracing the wisdom of the world's contemplative traditions. He is a professed Lay Cistercian—a layperson under the guidance of Trappist monks. He regularly speaks, teaches, and conducts retreats on contemplative Christian practice and blogs at www.carlmccolman.com.

Kathryn Hinds (d. 2018) was a teacher, novelist, poet, and writer of more than 50 nonfiction books on world history and mythology, including The Celts of Northern Europe. Kathryn was a student of Norse, Irish, and Welsh literature and a priestess in the Welsh bardic tradition.

Courtney Weber is a Wiccan priestess, writer, tarot advisor, metaphysical teacher, and social activist living in Oregon. She is the author of Brigid: History, Mystery, and Magick of the Celtic Goddess and Tarot for One: The Art of Reading for Yourself. Courtney is also the producer and designer of Tarot of the Boroughs. Courtney leads workshops throughout the US. Visit her at thecocowitch.com.