The Druid Magic Handbook: Ritual Magic Rooted in the Living Earth (Paperback)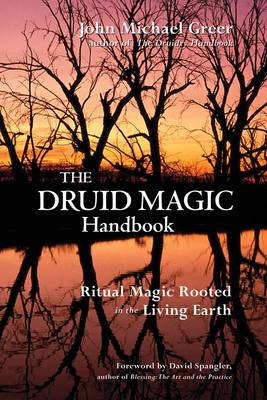 $21.95

Usually Ships in 3-6 Days
Description
---
The first and only Druidic book of spells, rituals, and practice. The Druid Magic Handbook is the first manual of magical practice in Druidry, one of the fastest growing branches of the Pagan movement. The book breaks new ground, teaching Druids how to practice ritual magic for practical and spiritual goals within their own tradition. What sets The Druid Magic Handbook apart is that it does not require the reader to use a particular pantheon or set of symbols. Although it presents one drawn from Welsh Druid tradition, it also shows the reader how to adapt rites and other practices to fit the deities and symbols most meaningful to them. This cutting edge system of ritual magic can be used by Druids, Pagans, Christians, and Thelemites alike!
The first manual of Druidic magical practice ever, replete with spell work and rituals.
John Michael Greer is a highly respected authority on all aspects of Paganism.
About the Author
---
John Michael Greer is the award-winning author of more than fifty books, including The Occult Book, The Druidry Handbook, The Celtic Golden Dawn, and Circles of Power: An Introduction to Hermetic Magic. An initiate in Freemasonry, the Hermetic Order of the Golden Dawn, and the Order of Bards, Ovates and Druids, Greer served as the Grand Archdruid of the Ancient Order of Druids in America (AODA) for twelve years. He lives in Rhode Island with his wife Sara. Greer is also the author of eleven fantasy and science fiction novels and ten nonfiction books on peak oil and the future of industrial society, and also blogs weekly on politics, magic, and the future at www.ecosophia.net.

Since returning to the United States from Findhorn in the early seventies, David Spangler has continued to travel and lecture widely. He has developed and taught classes at a number of institutions, including the University of Wisconsin, Seattle University, and the California Institute of Integral Studies. He also teaches classes for the Lorian Association for Incarnational Spirituality. Read David Spangler's blog at www.Hermeticist@blogspot.com.