The White Card: A Play (Paperback)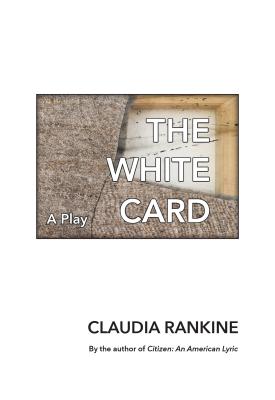 $16.00
Email or call for price
Description
---
A play about the imagined fault line between black and white lives by Claudia Rankine, the author of Citizen

The White Card stages a conversation that is both informed and derailed by the black/white American drama. The scenes in this one-act play, for all the characters' disagreements, stalemates, and seeming impasses, explore what happens if one is willing to stay in the room when it is painful to bear the pressure to listen and the obligation to respond.
—from the introduction by Claudia Rankine

Claudia Rankine's first published play, The White Card, poses the essential question: Can American society progress if whiteness remains invisible?

Composed of two scenes, the play opens with a dinner party thrown by Virginia and Charles, an influential Manhattan couple, for the up-and-coming artist Charlotte. Their conversation about art and representations of race spirals toward the devastation of Virginia and Charles's intentions. One year later, the second scene brings Charlotte and Charles into the artist's studio, and their confrontation raises both the stakes and the questions of what—and who—is actually on display.

Rankine's The White Card is a moving and revelatory distillation of racial divisions as experienced in the white spaces of the living room, the art gallery, the theater, and the imagination itself.
About the Author
---
Claudia Rankine is the author of Citizen: An American Lyric and four previous books, including Don't Let Me Be Lonely: An American Lyric. Her work has appeared recently in the Guardian, the New York Times Book Review, the New York Times Magazine, and the Washington Post. She is a chancellor of the Academy of American Poets, the winner of the 2014 Jackson Poetry Prize, and a contributing editor of Poets & Writers. She received a MacArthur Fellowship in 2016. Rankine is the Frederick Iseman Professor of Poetry at Yale University.
Praise For…
---
"The ideas discussed in The White Card are always compelling. . . . The lines of an urgent debate are clearly and thoroughly drawn."—The Nation

"The footsteps of giants are often soft, we hardly hear them coming. But determined to leave a mark on the landscape, Claudia Rankine is a giant—generating a quiet storm as she probes the extraordinary contemporary moments in which we live. The White Card is a flash of brilliance—a hand well played. Read it and weep!"—Carrie Mae Weems

"Claudia Rankine's captivating and seductive provocations about modern life have moved seamlessly in and out of several genres. As a dramatist, her searing mind and sharp sense of humor give us much to debate, ponder, and love about the American race story when we need it most."—Anna Deavere Smith
Sit 'n Knit