U.S. Guide to Venomous Snakes and Their Mimics (Paperback)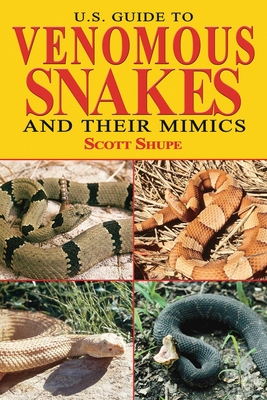 $16.99

Usually Ships in 3-6 Days
Description
---
The Definitive Reference for Differentiating Venomous Snakes from their Harmless Look-Alikes
This easy-to-use guide is the most comprehensive resource for snake admirers in the United States. Full-color photographs for every venomous snake in the country make for easy reference, and dividing the snakes based on their regional habitats makes finding the right snake a breeze. Whether you are trying to identify a western coral snake or its mimic, the sonoran shovel nosed snake, Scott Shupe's guide is the extensive handbook for which all snake aficionados have been waiting. With full-color maps and a thorough glossary of terms, you'll be able to identify Arizona black rattlesnakes, eastern cottonmouths, and more in no time!  
Detailed information on the natural history of each species and subspecies
Full-color photographs for definitive identification
Accurate region-by-region range maps for each snake
Shupe's guide covers the snake population of the entire United States. His expertise and knowledge of snakes is apparent in the thoughtful descriptions and handy hints on how to tell poisonous snakes from their harmless imitators. He also includes an informative natural history of the reptiles and the scientific terms by which they are referred. As a gift for a young naturalist, a reference book for your library, or a handy tool in a sticky situation, this guide is practical, useful, and fun!
About the Author
---
Scott Shupe began his naturalist career in 1971 at the famed Ross Allen Reptile Institute in Silver Springs, Florida. He has also worked at Florida's St. Augustine Alligator Farm and at the Black Hills Reptile Gardens in Rapid City, South Dakota. Today he serves as the director of education for the Kentucky Reptile Zoo & Venom Laboratory and is the author of U.S. Guide to Venomous Snakes and Their Mimics and the editor for Venomous Snakes of the World.