Proof of God: The Shocking True Answer to the World's Most Important Question (Paperback)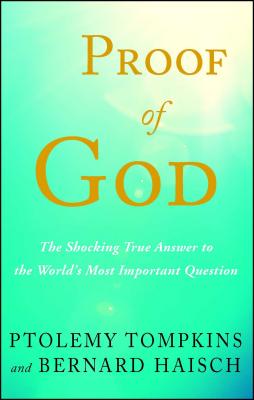 $17.99

Usually Ships in 3-6 Days
Description
---
A Seeker, a Scientist, and the Stunning Answer to the World's Oldest Question

Ptolemy Tompkins, collaborator on the New York Times bestselling Proof of Heaven and Proof of Angels, is at his lowest point, personally and professionally, when he meets with an astrophysicist with a message for the world: God is real, and science proves it.

Proof of God is the unlikely story of how this serious scientist and this broken writer, in a series of conversations stretching over several months, come to understand that the universe—from the smallest sub-atomic particles that make up everything in existence to the farthest reaches of the universe—bears evidence of a creator. In short, God not only exists, but science gives us tools to know this.

Proof of God shows how science and religion both point to the same stunning and world-changing truth: God is real.
About the Author
---
Ptolemy Tompkins is a former editor at Guideposts Magazine and the author of seven books. His writing has been featured in Beliefnet, Harper's, The New York Times, the Los Angeles Times, The Best Spiritual Writing, and The Best American Spiritual Writing.

Bernard Haisch, PhD is an astrophysicist and author of more than 130 scientific publications. He was a scientific editor of the Astrophysical Journal for ten years. His has been deputy director of the Center for Extreme Ultraviolet Astrophysics, the University of California at Berkeley and visiting scientist at the Max-Planck-Institute in Garching, Germany. He lives in the San Francisco Bay Area with his wife, Marsha Sims, and three children.

Praise For…
---
"If you are among those who are torn between science and religion, for whom the concept of God needs empirical proof, Proof of God is your book... Proof of God is CPR for the good, the true, the beautiful."
— Larry Dossey, author of One Mind
Sit 'n Knit