Make Your Brain Smarter Lib/E: Increase Your Brain's Creativity, Energy, and Focus (Compact Disc)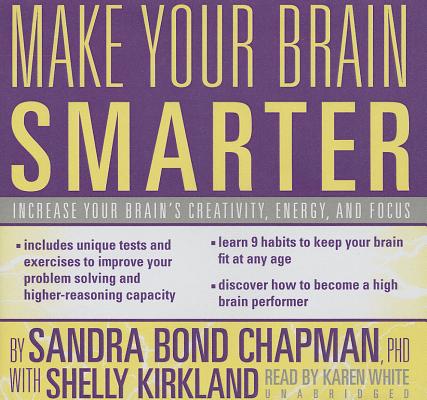 $76.00
Email or call for price
Description
---
One of the world's most innovative and respected cognitive neuroscientists combines the latest scientific discoveries with unique tests and exercises to improve your brainpower-for life.
The human brain is not a static organ; it's plastic, which means it can grow and change. But just like a muscle, you have to exercise it. In Make Your Brain Smarter, renowned cognitive neuroscientist Dr. Sandra Bond Chapman gives you the comprehensive fitness plan you need to exercise your way to a healthier brain.
By taking advantage of the immense cognitive potential of your brain, you can think smarter, not harder, solving the complexities and problems that occur every day. In this all-inclusive book, you'll find easy strategies to train deep, insightful, and strategic thinking in order to realize your brain's maximum cognitive capacity. With her years of experience, Dr. Chapman will introduce you to the very latest research in brain science, with an emphasis on the cutting-edge findings related to the frontal lobe. She'll show you how to tailor a brain fitness program to fit your own needs. From cover to cover, she shares tips and techniques that can be practiced throughout life to promote vigorous cognitive brain health at every age.
Whether you're a boomer-age thinker or a millennial-era finder, Make Your Brain Smarter will help you to take charge of your frontal-lobe command center and create the bright and vibrant brain that you crave-and will need in order to have a healthy, happy rest of your life.