The Art of Richard Thompson (Hardcover)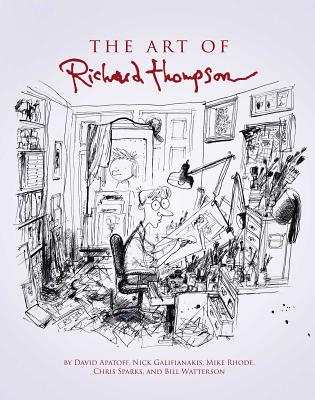 $35.00
Email or call for price
Description
---
Known for being the creator of the comic strip Cul de Sac, Richard Thompson's art prowess extends to many other levels.

Richard Thompson is renowned among cartoonists as an "artist's" cartoonist. Little known to all but those close to him is the extent of his art talent. This is the book that will enlighten the rest of us and delight us with the sheer beauty of his work.

Divided into six sections, each beginning with an introductory conversation between Thompson and six well-known peers, including Bill Watterson, the book will present Thompson's illustration work, caricatures, and his creation, Richard's Poor Almanack. Each section is highly illustrated, many works in color, most of them large and printed one-to-a-page. The diversity of work will help cast a wider net, well beyond Cul de Sac fans.
About the Author
---
Bill Watterson is the creator of
Calvin and Hobbes
, one of the most popular and well-regarded cartoon strips of the twentieth century.
Calvin and Hobbes
appeared in newspapers from November 1985 until Watterson's retirement in 1995.
Online:
gocomics.com/calvinandhobbes/
 Nick Galifianakis is an American cartoonist whose work is nationally recognized alongside the must-read advice column by Carolyn Hax. The column appears in nearly two hundred newspapers and is one of the most popular features on washingtonpost.com. It also was named by
Time
magazine as America's best advice column. Contributing a foreword is Zach Galifianakis, the author's first cousin and the runaway star of
The Hangover
and
Due Date
. Nick resides in the Washington, D.C., area with his canine alter ego, ZuZu.
 Chris Sparks is a lifelong fan of the comic medium and the driving force and editor behind
Team Cul de Sac: Cartoonists Draw the Line at Parkinson's,
a book nominated for Eisner and Harvey awards. Sparks won the 2013 Bob Clampett Humanitarian Award for his work on the Team Cul de Sac project which raises money for the Michael J Fox Foundation. He co-owns Sparking Design, a print and website development company in Asheville, NC.