2016 Photographer's Market: How and Where to Sell Your Photography (Paperback)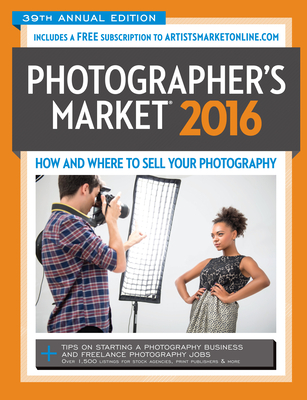 $34.99
Email or call for price
Description
---
The Successful Photographer's Secret Thousands of successful photographers have trusted Photographer's Market as a resource for growing their businesses. This edition contains the most comprehensive and up-to-date market contacts for working photographers today: magazines, book publishers, greeting card companies, stock agencies, advertising firms, contests and more. In addition to the more than 1,500 individually verified contacts, 2016 Photographer's Market includes: - A FREE 1-year subscription to ArtistsMarketOnline.com, where you can search industry contacts, track your submissions, get the latest photography news and much more (free subscription with print version only)
- Up-to-date information on how to start and run a photography business, including how to find clients, who to contact to submit your photos, what types of photos they need and how to submit both digital and film images
- Markets for fine art photographers, including hundreds of galleries and art fairs
- NEW Informative articles on starting a new business, taking stock photos, managing models, and the benefits of slowing down to create better work
- NEW Special features on selling without begging, obtaining micro funding, pricing photography, and methods for accepting payment
- NEW Inspiring and informative interviews with successful professionals, including portrait, still life and editorial photographers.
About the Author
---
Mary Burzlaff Bostic, Cincinnati, OH, is also the editor of Artist's & Graphic Designer's Market and ArtistsMarketOnline.com. She is a graduate of Georgetown College and the University of Cincinnati.