The Decameron Project: 29 New Stories from the Pandemic (Large Print / Library Binding)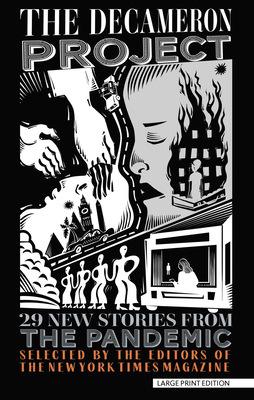 $43.39
Email or call for price
Description
---
A stunning collection of short stories originally commissioned by The New York Times Magazine as the COVID-19 pandemic swept the world, from twenty-nine authors including Margaret Atwood, Tommy Orange, Edwidge Danticat, this year's National Book Award winner Charles Yu, and more. When reality is surreal, only fiction can make sense of it. In 1353, Giovanni Boccaccio wrote The Decameron: one hundred nested tales told by a group of young men and women passing the time at a villa outside Florence while waiting out the gruesome Black Death, a plague that killed more than 25 million people. Some of the stories are silly, some are bawdy, some are like fables. In March 2020, the editors of The New York Times Magazine created The Decameron Project, an anthology with a simple, time-spanning goal: to gather a collection of stories written as our current pandemic first swept the globe. How might new fiction from some of the finest writers working today help us memorialize and understand the unimaginable? And what could be learned about how this crisis will affect the art of fiction? These twenty-nine new stories, from authors including Margaret Atwood, Tommy Orange, Edwidge Danticat, Charles Yu, Rachel Kusher, Colm Toibin, and David Mitchell vary widely in texture and tone. Their work will be remembered as a historical tribute to a time and place unlike any other in our lifetimes, and will offer perspective and solace to the reader now and in a future where COVID-19 is, hopefully, just a memory. Table of Contents:
"Preface" by Caitlin Roper
"Introduction" by Rivka Galchen
"Recognition" by Victor LaValle
"A Blue Sky Like This" by Mona Awad
"The Walk" by Kamila Shamsie
"Tales from the LA River" by Colm T ib n
"Clinical Notes" by Liz Moore
"The Team" by Tommy Orange
"The Rock" by Leila Slimani
"Impatient Griselda" by Margaret Atwood
"Under the Magnolia" by Yiyun Li
"Outside" by Etgar Keret
"Keepsakes" by Andrew O'Hagan
"The Girl with the Big Red Suitcase" by Rachel Kushner
"The Morningside" by T a Obreht
"Screen Time" by Alejandro Zambra
"How We Used to Play" by Dinaw Mengestu
"Line 19 Woodstock/Glisan" by Karen Russell
"If Wishes Was Horses" by David Mitchell
"Systems" by Charles Yu
"The Perfect Travel Buddy" by Paolo Giordano
"An Obliging Robber" by Mia Couto
"Sleep" by Uzodinma Iweala
"Prudent Girls" by Rivers Solomon
"That Time at My Brother's Wedding" by Laila Lalami
"A Time of Death, The Death of Time" by Juli n Fuks
"The Cellar" by Dina Nayeri
"Origin Story" by Matthew Baker
"To the Wall" by Esi Edugyan
"Barcelona: Open City" by John Wray
"One Thing" by Edwidge Danticat.
About the Author
---
From the editors of The New York Times Magazine, including Caitlin Roper, Claire Gutierrez, Sheila Glaser, and Jake Silverstein.