Mother Courage and Her Children: Mutter Courage Und Ihre Kinder (Modern Classics) (Paperback)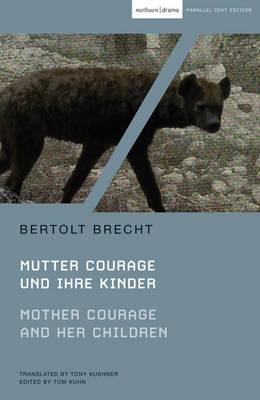 $14.95
Email or call for price
Description
---
Mother Courage and Her Children is widely regarded as Brecht's best work, a theatrical landmark and one of the most powerful anti-war plays in history. This unique bilingual edition allows students to compare the original German text with a translation by one of the world's leading playwrights, Tony Kushner.
In this play, a chronicle of the Thirty Years War, Mother Courage follows the armies back and forth across Europe, selling provisions and liquor from her canteen wagon. One by one she loses her children to the war but will not part with her livelihood - the wagon. The Berlin production of 1949, with Helene Weigel as Mother Courage, marked the foundation of the Berliner Ensemble. The English translation by Pulitzer Prize-winning playwright Tony Kushner is inventive and vigorous, making Brecht's epic drama accessible to the 21st century reader. Contemporary language and humour make it the perfect English version to elucidate and compare with the original text. This edition also includes a critical introduction and commentary notes on particular words and phrases.
About the Author
---
Bertolt Brecht (1898-1956) is acknowledged as one of the great dramatists whose work has had a considerable influence on the theatre. His landmark plays include The Threepenny Opera, The Life of Galileo, and The Caucasian Chalk Circle. Translator, Tony Kushner, is best known for his two-part epic, Angels in America: A Gay Fantasia on National Themes and he has since emerged as one of America's most gifted playwrights. He is the recipient of a Pulitzer Prize for Drama, an Emmy Award, two Tony Awards, three Obie Awards, an Oscar nomination among many others.