Empath: A 21 Step by Step Emotional Healing & Survival Guide for Empaths and Highly Sensitive People - Overcome Fears and Deve (Paperback)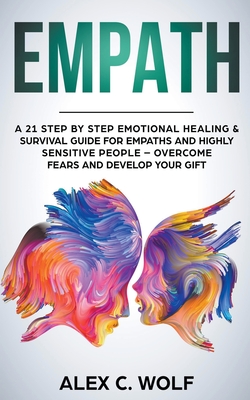 $24.99

Usually Ships in 3-6 Days
(This item cannot be returned.)
Description
---
Are you looking to improve your empathic abilities? Overcome your fears and develop your gift?

If you answered YES to any of those questions then you need to read this book.
Empathy, in its most basic form, is the ability to feel the emotions and energy of not only the people around you but the world around you as well. It is difficult to adequately describe what empaths really are. Some work as councilors, able to read the emotions of the distraught and vulnerable. Many are healers, sometimes feeling the echo of pain before the patient can even begin to speak. Empathy is a sixth sense of sorts it's an extra layer of skin for some people, with different textures or auras depending on that individual's psyche. For others, it's emotions that just pop or slide into their mind when someone walks in the room. While the way the gift manifests is going to be different for every person, one thing that remains constant is that those with these abilities came by them naturally and have the ability to improve upon them with practice. If you are looking to improve your empathic abilities, then Empath: A 21 Step by Step Emotional Healing & Survival Guide for Empaths and Highly Sensitive People - Overcome Fears and Develop Your Gift is the book you have been waiting for.
Inside you will learn:
About the famous empaths who have come before you, the various ways your gifts can manifest and how to manage your gifts effectively.
About the dangers that empathy can lead to as well as exercises to try to ensure your empathic abilities are as strong as they can possibly be.
And so much more
So, what are you waiting for?
Being empathic is a gift, don't squander it, make the most of it, make the most of it by buying this book today