What If You Could Sniff Like a Shark? : Explore the Superpowers of Ocean Animals (What If You Had... ?) (Paperback)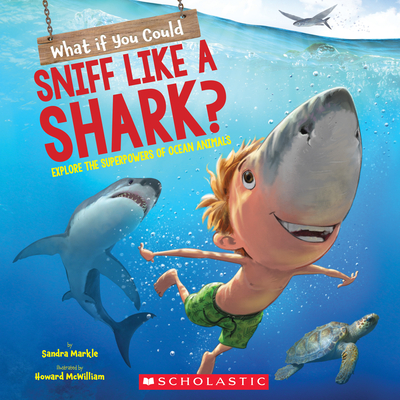 $5.99
Usually Ships in 3-6 Days
Description
---
If you could have any ocean animal's superpower, whose would you choose?What if you woke up one morning, and you suddenly had the superpower of an ocean animal? If you could shapeshift like a giant Pacific octopus, you could squeeze through even the smallest gaps. If you could snap your claws like a coconut crab, you could slice through sheets of metal. And if you could sniff like a great white shark, you'd be able to smell treats from miles away!With zany illustrations and amazing true facts, What If You Could Sniff Like a Shark? launches a brand-new series from bestselling creators Sandra Markle and Howard McWilliam. The What If You Could...? books have all the appeal of the What If You Had...? titles, but focus on animal superpowers and feature a fresh new design.
About the Author
---
Sandra Markle is the author of more than 200 children's books, which have won numerous awards, including Boston Globe-Horn Book Honor Book, IRA/CBC Children's Choice, NSTA/CBC Outstanding Trade Books for Children, NCTE Orbis Pictus Recommended, and ALA Notable Books for Children. She lives in Florida.

Howard McWilliam is the illustrator of Dinosaurs Christmas by Jerry Pallotta, I Need My Monster by Amanda Noll, When a Dragon Moves In by Jodi Moore, and the What If You Had... series by Sandra Markle. He lives in Kingston Upon Thames, England, with his wife, Rebecca. For more information, go to howardmcwilliam.com.
Praise For…
---
Praise for What If You Could Sniff Like a Shark!?"Appealing equally to curiosity about the real world and to readers' sense of play. . .A winning mix of solid fact and undisguised fun."--Kirkus "Kids will get a kick out of this great mix of illustrations and animal facts. Libraries that have the previous titles in their collection should add this one to the set."--School Library Journal Praise for What If You Had Animal Teeth!?:"Though perhaps not the best choice for the nightmare-prone, this will surely satisfy animal enthusiasts and trivia lovers, and dentists and parents will appreciate the mention of ways to keep human chompers healthy." -- Booklist"It's a hilarious and instructive combination that makes it clear just how variable and individually suited this aspect of anatomy is, and the art takes the concept and runs -- well, chomps -- with it." -- Bulletin of the Center for Children's Books"Delightful illustrations and factual presentations of animals make this a valuable purchase for early elementary classrooms and libraries." -- Library Media Connection"The lively text, photographs, and quirky illustrations charmingly tell a great tooth story." -- International Reading Association

Praise for What If You Could Sniff Like a Shark!?"Appealing equally to curiosity about the real world and to readers' sense of play. . .A winning mix of solid fact and undisguised fun."--Kirkus "Kids will get a kick out of this great mix of illustrations and animal facts. Libraries that have the previous titles in their collection should add this one to the set."--School Library Journal Praise for What If You Had Animal Teeth!?:"Though perhaps not the best choice for the nightmare-prone, this will surely satisfy animal enthusiasts and trivia lovers, and dentists and parents will appreciate the mention of ways to keep human chompers healthy." -- Booklist"It's a hilarious and instructive combination that makes it clear just how variable and individually suited this aspect of anatomy is, and the art takes the concept and runs -- well, chomps -- with it." -- Bulletin of the Center for Children's Books"Delightful illustrations and factual presentations of animals make this a valuable purchase for early elementary classrooms and libraries." -- Library Media Connection"The lively text, photographs, and quirky illustrations charmingly tell a great tooth story." -- International Reading Association