Bullet It! Lists for Living: A Notebook for Charting Your Tasks, Hopes, and Dreams (Paperback)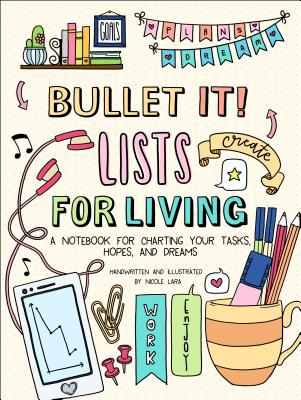 Description
---
This inspiring gift book offers beautifully illustrated guided bullet organization lists that will make your achievements shine!

In Bullet It! Lists for Living: A Notebook for Charting Your Tasks, Hopes and Dreams, author/illustrator Nicole Lara gives bullet journalers beautifully illustrated, full-color pages and prompts for recording their "life lists."

The prompts include practical lists, like movies to watch, favorite books, Christmas present ideas, trips they'd like to take, and home decorating ideas, but also personal lists, like the people who make them laugh the most, the things they're most grateful for, and where they see themselves in 10 years.
About the Author
---
NICOLE LARA is a Dominican artist who has been creating beautiful ways to mix her passion for journaling and planning with her artistic skills. She studied architecture in college, but decided to pursue her artistic passions as a self-taught illustrator and doodler after graduating. With her clean line art and intricate doodles, she's inspired thousands of people to start using a notebook and pens to plan their lives and express their creativity.