Pumpkin: The Raccoon Who Thought She Was a Dog (Hardcover)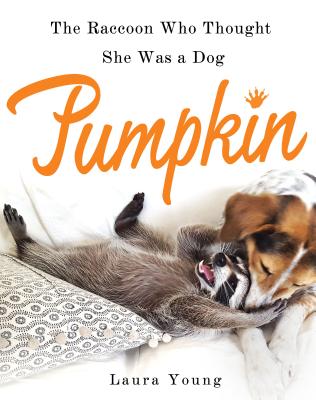 Description
---
As a baby, Pumpkin the Raccoon was abandoned by her parents after falling out of a tree and breaking her leg. Taken in by a family with two rescue dogs, Toffee and Oreo, Pumpkin gained a new set of "parents" and a life of luxury in the Bahamas.
Pumpkin: The Raccoon Who Thought She Was a Dog is a sweet, unique look at an adorable household pet, captured in gorgeous, never-before-seen photographs in luxurious settings. Pumpkin's message is that friendship and love can be found in the most unlikely of companions. With a lot of personality, and a little bit of mischief, Pumpkin will capture hearts all around the world.
About the Author
---
LAURA YOUNG is the proud owner of Pumpkin, Toffee and Oreo, and when she's not capturing their friendship with her own amazement, she's a children's book writer living and working in the Bahamas.
Praise For…
---
"I can confirm that Pumpkin is really cute." -John Hodgman in The New York Times
"Just too damn cute." –Buzzfeed
"Adorable…an Internet sensation." –USA Today
"Here's a pumpkin unlike all others you'll see this season." –People
"This book is cuteness overload." -Library Journal