The Givenness of Things: Essays (Paperback)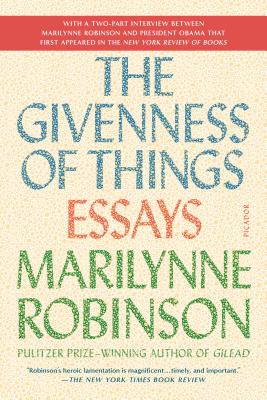 List Price: $17.00
Our Price: $16.00
(Save: $1.00 6%)
On Our Shelves Now (Please allow up to 48 hours for curbside pickup.)
Description
---
WITH A TWO-PART INTERVIEW BETWEEN MARILYNNE ROBINSON AND PRESIDENT OBAMA THAT FIRST APPEARED IN THE NEW YORK REVIEW OF BOOKS

The incomparable Marilynne Robinson has delivered an impassioned critique of contemporary society—our addiction to technology, our materialism—while arguing that reverence must be given to who we are and what we are: creatures of singular interest and value, despite our errors and depredations.

Robinson has plumbed the depths of the human spirit both in her novels, including the National Book Critics Circle Award–winning Lila and the Pulitzer Prize–winning Gilead, and in her new essay collection she trains her incisive mind on our modern predicament and the mysteries of faith. These seventeen essays examine the ideas that have inspired and provoked one of our finest writers throughout her life. Whether she is investigating how the work of the great thinkers of the past—Calvin, Locke, Bonhoeffer, and Shakespeare—can infuse our lives, or drawing attention to the rise of the self-declared elite in American religious and political life, Robinson's peerless prose and boundless humanity are on display.

Exquisite and bold, The Givenness of Things is a necessary call for us to study our cultural heritage in search of both wisdom and guidance and to offer grace to one another.
About the Author
---
Marilynne Robinson is the recipient of a 2012 National Humanities Medal, awarded by President Barack Obama, for "her grace and intelligence in writing." She is the author of Gilead, winner of the 2005 Pulitzer Prize for Fiction and the National Book Critics Circle Award; Home, winner of the Orange Prize and the Los Angeles Times Book Prize; and Lila, winner of the National Book Critics Circle Award. Her first novel, Housekeeping, won the Hemingway Foundation/PEN Award. Robinson's nonfiction books include The Givenness of Things, When I Was a Child I Read Books, Absence of Mind, The Death of Adam, and Mother Country. She lives in Iowa City, Iowa.
Praise For…
---
One of Time's Top 10 Nonfiction Books of 2015

"A sense of wonder pervades the powerful essays in The Givenness of Things . . . Robinson's heroic lamentation is magnificent . . . Robinson's insistence, throughout these essays, that we recognize the limitations of our knowledge is timely and important." —Karen Armstrong, The New York Times Book Review

"These are beautiful essays . . . beautiful in thought and beautiful in expression." —Bill Marvel, Dallas Morning News

"The Givenness of Things is so rich that I'm tempted to quote it to death." —Michael Robbins, The Chicago Tribune

"Over the course of 17 provocative essays, Robinson, a 'self-declared Calvinist from northern Idaho,' brings both her formidable intellect and powers of plain speaking to deliver a clarion call against the culture of fear that she believes is eating away at American society." —Yvonne Zipp, The Christian Science Monitor

"Marilynne Robinson displays the same passionate concern with matters of faith that suffuses her majestic trilogy of linked novels." —Wendy Smith, The Boston Globe

"Robinson's handiwork is capacious and serious, but also mysterious and wondrous; like the night sky, it deserves our attention." —Casey N. Cep, The New Republic

"A new book of essays by Robinson is a major American literary event." —Jeff Simon, The Buffalo News

"Robinson's genius is for making indistinguishable the highest ends of faith and fiction . . . The beauty of Robinson's prose suggests an author continually threading with spun platinum the world's finest needle." —Michelle Orange, Bookforum

"These bravely and brilliantly argued, gorgeously composed, slyly witty, profoundly caring essays lead us into the richest dimensions of consciousness and conscience, theology and mystery, responsibility and reverence." —Donna Seaman, Booklist

"The prose is as finely wrought as in any of Robinson's novels . . . any reader not tone-deaf will be enchanted by her grave, urgent music." —George Scialabba, Bookforum

"Eloquent, persuasive, and rigorously clear, this collection reveals one of America's finest minds working at peak form, capturing essential ideas with all 'the authority beautiful language and beautiful thought can give them." —Publishers Weekly