Adobe Photoshop Elements 10: Maximum Performance: Unleash the Hidden Performance of Elements (Hardcover)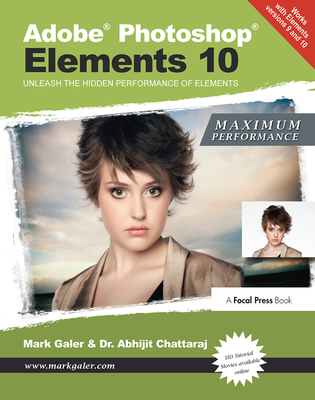 $229.50
Email or call for price
Description
---
Master the most powerful photo editing tools and techniques that Elements has to offer Using step-by-step projects, Mark Galer will have you creating stunning images in no time at all. Whether you want to create impressive, seamless montages, optimize your photos for perfect print quality, or simply enhance your images for maximum impact, Maximum Performance will give you the skills and know-how you need to create professional quality results.
Featured projects teach you how to work with multilayered 16 bit/channel files, as well as convert to black and white using Adobe Camera Raw, create High Key images, work with image borders and textures, and create tilt-shift and cross-process effects.
Three movie tutorials featuring specific techniques from the book are available for free online, and a supplemental package of images and movies can be purchased with an easy one-time download from the authors' website, www.elements-maxperformance.com. Find everything you need to unleash the power of Elements with Max Performance, or for a more interactive learning experience, download the supplemental images and movies for comprehensive, hands-on learning.
About the Author
---
Mark Galer is the Program Director and Senior lecturer at RMIT University in the School of Media and Communication, Australia. He is also co-writer of their popular online photography courses. He has lectured in photography in the UK and Australia and has worked commercially as a freelance photographer on corporate and editorial assignments. He has written numerous top-selling photography books, including Photography Foundations for Art & Design, the Popular Photoshop Elements; Maximum Performance and Photoshop; Essential Skills series. He is an Official Adobe Ambassador for Photoshop and Photoshop Elements.Dr. Abhijit Chattaraj is a commercial photographer based in Melbourne, Australia. Abhijit began his career as a Computer Scientist and has a PhD in Bioinformatics. He is the co-founder of Wishbone Studio, a creative collective that creates bleeding edge interactive installations that combine stills with moving images and CGI to create captivating experiences for museum and corporate clients. Abhijit's work has been shown widely in exhibitions, most recently he was recognised among the top emerging photographers in Australia
Sit 'n Knit