The Advanced Digital Photographer's Workbook: Professionals Creating and Outputting World-Class Images (Hardcover)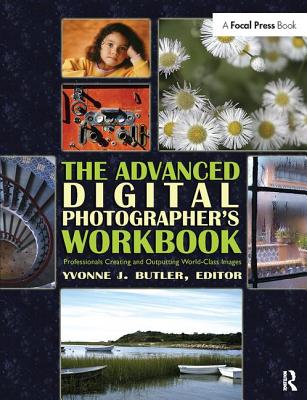 $140.00
Email or call for price
Description
---
THE ADVANCED DIGITAL PHOTOGRAPHER'S WORKBOOK is packed full of real-world yet incredibly practical and effective solutions to move digital photographers to a new level of performance. Contributors include twelve world-class professional digital photographers who share their tips and tricks. The authors provide details to move you beyond the basics of capture, processing and output to more sophisticated workflow functions and techniques that will help you create world-class images. They cover rigorous yet easy-to-understand approaches to: capture a great image in black-and-white and color, correct color, calibrate and set up systems properly, creatively manipulate and enhance the image, and produce an excellent print or output of the image.
Contributors: Steve Anchell, Stephen Burns, Yvonne Butler, Eric Cheng, Joe Farace, Lou Jones, Rick Sammon, George Schaub, Jeremy Sutton, Tony Sweet, Taz Tally, Eddie Tapp
About the Author
---
Yvonne Butler is a professional photographer, writer, consultant, and digital workshop trainer. Yvonne's passion for photography is closely followed by her ongoing sense of urgency to capture the beauty of people, objects, and special locations around the world. She has amassed a representative body of black-and-white and color images taken in over thirty countries, many of them so-called third world countries, while she works on specialty abstracts and close-ups as fine art form. Her work has appeared in several magazines, websites, brochures, and collateral materials of the digital workshop groups for whom she leads workshops or consults. Yvonne was the creator and former director of the four-year-old Shutterbug magazine digital workshop series. Forever falling back on her foundation in teaching, professional platform presentation and group facilitation, information technology, and photography, she now conducts her own digital workshops throughout the US and the world. Her platform and training skills have been honed over the past 35 years. She specializes in presenting technically difficult subject matter in simple, clear, friendly language, almost always using hands-on approaches. Yvonne is a member of Professional Photographers of America and she is a Charter Member of the Bellamax Advisory Board of Professional Photographers (www.bellamax.com). She is represented by galleries on Cape Cod and in Toronto, Canada. She holds a master's degree in information systems from Northeastern University School of Engineering and has taken extensive doctoral-level coursework in communication at the University of South Florida. Send her an email message at Yvonne@yvonnebutler.com.
Sit 'n Knit