RVR 1960 Biblia del Pescador: Edición liderazgo, negro piel fabricada: Edición liderazgo (Large Print / Leather / fine binding)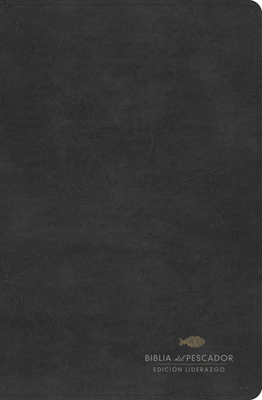 $44.99

Usually Ships in 3-6 Days
Description
---
La Biblia del Pescador, Edición Liderazgo es una herramienta única diseñada para ayudar al pastor y a todo líder en la iglesia a navegar a través de la Palabra de Dios. Esta Biblia, con material completamente nuevo, es el recurso ideal para ministrar en diversas situaciones de la vida o temas de conversación.

La Biblia del Pescador, Edición Liderazgo cuenta con recursos específicos para pastores y líderes que ayudarán a encontrar los versículos adecuados para temas relevantes que un líder encontrará en su ministerio diario. Esta Biblia cuenta con más de 40 nuevas cadenas de versículos, 12 artículos inéditos sobre el liderazgo, 28 bosquejos para sermones, una introducción a cada libro de la Biblia, nuevas palabras clave y un tamaño de letra más grande que facilitará su lectura. Presenta un extenso índice temático que se divide en siete secciones: liderazgo, consejería, devoción, evangelismo, Iglesia, doctrina cristiana y apologética. 
La nueva edición cuenta con una portada duradera, para que el líder disfrute de tener una Biblia para toda una vida. 
Características:
50 nuevas cadenas temáticas sobre el liderazgo 
16 artículos inéditos sobre liderazgo para pastores y líderes
28 bosquejos de sermones
Introducción a cada libro de la Biblia
Nuevas palabras clave
Edición letra grande
Manual de cómo usar la Biblia
Índice por temas
Índice alfabético de palabras clave
5 principios de vida eterna

The Fisherman's Bible, Leadership Edition is a unique tool designed to help pastors and every leader in the church navigate through the Word of God. This Bible contains new resources that are ideal for ministry in a variety of life situations or topics of conversation.
The Fisherman's Bible, Leadership Edition has specific resources for pastors and leaders that will help find the right verses for relevant topics that a leader encounters in daily ministry. This Bible features more than 40 new verse strings, 12 brand new leadership articles, 28 sermon outlines, an introduction to each book of the Bible, new keywords, and a larger font size to make reading easier. It presents an extensive thematic index divided into seven sections: Leadership, Counseling, Devotion, Evangelism, Church, Christian Doctrine, and Apologetics.
The new edition features a durable cover, so the leader can enjoy having the Bible for a lifetime.
Features:
50 new thematic chains on leadership
16 unpublished articles on leadership for pastors and leaders
28 sermon outlines
An introduction to each book of the Bible
New keywords
Large print edition
Manual on how to use the Bible
Index by subject
Alphabetical index of keywords
5 principles of eternal life
About the Author
---
Luis Ángel Díaz-Pabón es presidente de la Sociedad Misionera Global y dirige varios ministerios, como la Iglesia Capilla del Rey (The King's Chapel), en Miami, Florida. Nació en una familia cristiana, reconoció a Cristo como su Señor y Salvador a los quince años de edad en Nueva York y posteriormente comenzó su obra como evangelista en Puerto Rico en 1973. Sus cruzadas evangelísticas han congregado a más de 60,000 personas en una sola noche.


Luis Ángel Díaz-Pabón is president of the Global Missionary Society and leads several ministries including La Capilla del Rey (The King's Chapel), a church in Miami, Florida. Born into a Christian family, he accepted Christ at age 15 in New York City and later began his work as an evangelist in Puerto Rico in 1973. His evangelistic crusades have drawn as many as 60,000 people in a single night.
Sit 'n Knit