How to Start Microgreens 2021: The Complete Guide to Growing Nutrient Dense Organic Microgreens (Hardcover)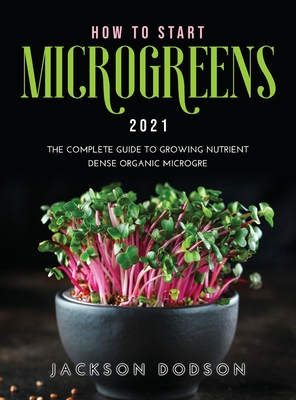 $112.99

Backordered (Could take 2-4 weeks, or more)
(This item cannot be returned.)
Description
---
**55% OFF for Bookstores LAST DAYS***
HOW TO START MICROGREENS 2021
Your Customers Never Stop to Use this Awesome Book
Do you want to grow your own kitchen garden? Do you want to boost your immune system, improve cardiovascular health, and lose weight? Do you want to enrich your diet with mouth-watering herbs that you can grow on your kitchen counter or windowsill?
In this book, you'll find out what microgreens are, why you need them, how to grow them, and so much more With this book, you'll be able to start improving your life and health right now Whether you're interested in growing and selling microgreens or want to use them for vigorous health, this book will tell you everything you need to know to start growing and consuming microgreens Moreover, this book will show you how to cook and eat these delicious plants, turning every plain meal into a delicacy With the instructions and tips given in this book, you'll know exactly which seeds to buy, how to care for them, and how to cultivate them to start seeing results within days
In this book you find:
What exactly are microgreens?
What's their true nutritional value?
How do you grow microgreens?
How much do you water and fertilize microgreens?
And so much more Microgreens is based on expert research and uses present-day findings to help you understand the true benefits of cultivating microplants for vigorous health, a delicious diet, and a profitable business. In Microgreens: An Essential Guide to Grow Nutrient-Dense Organic Microgreens for Your Health or Profit, you'll find the best instructions on how to: ● grow your own microgreens from scratch;
use the tools you already have in your kitchen and shed to create your own mini garden;
reap the benefits of nutritious microgreens with simple and easy meals; and
start your own business. That's right Microgreens will show you how to grow your own business from cultivating microgreens, by showing you how to:
take the first steps to grow mini-batches;
grow your production to bulk agriculture;
Buy it Now and let your customers get addicted to this amazing book