The Secret of the Santa Box (Hardcover)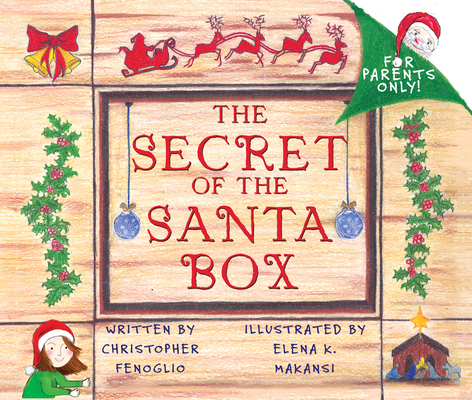 Description
---
The Secret of the Santa Box by Christopher Fenoglio, with illustrations by Elena Makansi, is a delightful poem written in the same lyrical style as 'Twas the Night Before Christmas. The book helps parents tell their children the truth about Santa in a positive, loving way. It is ideal for families who have outgrown the "Elf on a Shelf" and are ready to move forward to the true meaning of Christmas.
About the Author
---
Christopher Fenoglio has served in numerous editorial, production, and marketing positions in the Christian publishing industry, including The Tennessee Register, the Diocese of Nashville newspaper, CCM Magazine, and CCM Update, as well as throughout Nashville's country music and healthcare industries. Fenoglio is currently the managing editor of www.umc.org, the denominational website for The United Methodist Church, as well as a cantor and music minister at St. Henry Church in Nashville. He has recorded three Christian albums, and garnered First Place Awards by The Catholic Press Association for his columns. 

Elena Makansi graduated from Oberlin College where she majored in Environmental Studies. She is currently pursuing an MFA in illustration & Design from the University of Arizona. She is a writer, artist, and vegan/vegetarian cook. She is part of the K. Makansi trio of writers of THE SEEDS TRILOGY (currently optioned for film by an award-winning independent production company), and is working on her first solo novel, LUNA AND THE MIDNIGHT CAFE. She blogs and runs a Facebook page about vegetables and cooking and works part-time for an organization promoting farmers markets and local artisans. She has worked on illustrations for several non-fiction titles and has designed many book covers. THE SECRET OF THE SANTA BOX is her first children's picture book. 
Praise For…
---
"Chris Fenoglio makes it easy for parents to delicately share the mystical meaning of the spirit of Christmas with their children." — The Tennessee Register
"In the same way so many people can recite The Night Before Christmas from memory, The Secret of the Santa Box has all the makings of a new holiday classic. Filled with wonderfully nostaligic imagery that immediately evokes the Christmas spirit, The Secret of the Santa Box celebrates wonder, the thill of hope, giving, and God's goodness in beautifully crafted verse that, like a great song, can't help getting stuck in your head." — Christa Banister, Blessed are the Meddlers
"Fresh, funny, original and perfect for girls and boys everywhere. Christopher Fenoglio has created a holiday poem for children of all ages." — Adriana Trigiani, Kiss Carlo, Brava Valentine, Big Stone Gap series
"There is nothing like The Secret of the Santa Box in the marketplace. For parents with children, this book will be a true keepsake. This tender, sweet poem captures the essence of Christmas and provides a special tool for teaching children about Santa, about giving and about love." — Julie Cragon . Bless My Child, Jesus at My Side, Talking to God
"This is the best Christmas book to become a classic since 'Twas The Night Before Christmas. If families will read this book to prepare and figure out how to transition into new Christmas traditions as their kids get older, this world would be a better place." — Julie Powers Schoerke, JKS Communications 
"Ultimately, it was important for (the author) to teach his children that Christmas is all about Jesus. And, ultimately, that is what all Christians want for their children as well." — Baptist & Reflector 
"If you've ever struggled with how to tell your child the real truth about Santa, this book makes it easy. It's sweet, inspiring and based on a true story." — Joan Brasher (blogofjoan.blogspot.com) 
"Chris has masterfully written a short story for children who are moving beyond the mystery of Santa, to colorfully introduce them to the marvelous beauty of the true miracle of Christmas." — Dr. Mark S. Bryan (Pastor, Glen Leven Presbyterian Church, Nashville, Tennessee)
" The Secret of the Santa Box is a wonderful way to help maturing children see Christmas in a whole new way. Fenoglio does a wonderful job of ushering young people into an adult understanding, while still protecting the magic of Christmas." — Shellie Braeuner. The Great Dog Wash

"Beautifully illustrated to quickly become a family treasure, this wonderful little secret will surely be kept for generations to come." — The Westview 
"The Secret of the Santa Box is a delightful poem and a wonderful way to discuss with your children the true meaning of Christmas." — Sr. Marie Blanchette O.P. (Principal, Overbrook School, Nashville, Tennessee)